Erin Bad Hand, Poet
Erin Bad Hand, of Lakota and Eastern Cherokee descent (with a smattering of Italian, Cuban and French- Canadian, just to keep it interesting) deals with issues of multi-cultural identity in her poetry. This Taos native was born in Colorado but raised in a 'traditional household' in Northern New Mexico. She describes her father, Howard Bad Hand, as a medicine man, a fourth generation Lakota singer and songkeeper from Rosebud, S.D.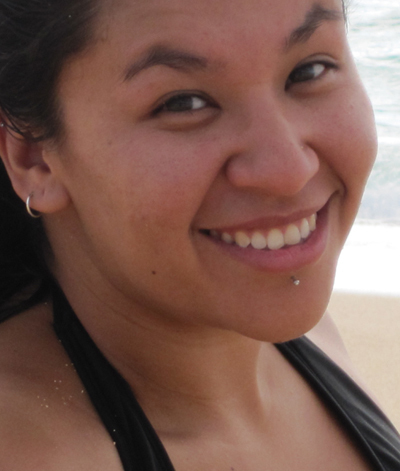 For Erin, expressing herself through poetry came at an early age, when at age 9 or 10 she began 'testing' her own writing with the help of her teacher, Gabrielle Herbertson, who inspired students by taking them on 'writing field trips' to create poetry in the parks and alleyways of Taos. Even at this young age, Bad Hand was soon the published author of a poem entitled 'The Color' when it appeared under her byline in the Taos News. That experience cemented her resolve to become a writer.
After graduation from Taos High School in 1998, Bad Hand attended Colorado College where she received her BA in English with an emphasis on creative writing. Upon graduation, her first published collection of poems "And Then Everyone Can Rest" debuted in 2002. She moved back to Taos to act as Executive Director for the World Poetry Bout Association and work as program coordinator with Joleen Montoya-Dye's ECO Arts Center, a local youth-focused non-profit. Erin left to attend the School of the Art Institute of Chicago, where she received her MFA in Creative Writing in 2006. Back in Taos once more, she joined the faculty at UNM-Taos where she taught creative writing and also to work for the Rocky Mountain Youth Corps as a crew supervisor in the After-School Tutoring and Mentoring Program.
Erin's restless heart led her to yet another adventure in 2008; she went to work as a valet at El Monte Sagrado Resort and Spa. Working her way up through the ranks to floor waitress in their 4 Diamond restaurant, she met her soon-to-be fiancé Adam Kerr, the restaurant's sommelier. Together they decided to learn and explore viticulture in California's Napa Valley, recently returning to open arms in the Taos literary community.
As for what she personally identifies as important in her work and what she hopes to accomplish Erin states, "As a poet, I'm very much about the personal connection that happens when I read/perform my work aloud. Of course I want it to be strong both on the page and in performance; that moment when the room is silent and everyone is listening to every word you have to say, or sing, for me is a very powerful moment. I'd like to say that my goals are to publish a lot of poetry books and be famous and to teach, but really I struggle with my work and am terrified when it's finally 'out there' for the public to read or hear. Really, I just enjoy meeting the people who inspire me to be a better poet and a better person; so long as I get to do that, I'm thrilled!
What or who inspires her? "I have been very lucky to have many people in my life who have inspired me to become and to keep becoming who I want to be. First, and always, my parents, Terrie and Howard Bad Hand have inspired and encouraged and uplifted me. My dad has always been my philosopher; he's the one I go to with all of life's huge questions, and he has helped me balance out my emotional side with my rational side. My mother is by far one of the strongest and fiercest women I know. From her I gather my strength and my courage. There are many others who have inspired me throughout my life, from Emily Dickinson, Edna St. Vincent Milay and Frida Kahlo to the Dalai Lama, Pablo Neruda and Gabriel Garcia Marquez."
And who among her contemporaries inspires her now? "Absolutely Lyla Johnston. Without a question!" Lyla Johnston is a Dineh poet who is also a Taos, New Mexico native. Her poetry sends out a positive message and has inspired many audiences to join a more conscious humanity. She is studying environmental sciences and solutions at Stanford University.
When asked what advice she would give an aspiring writer, Erin speaks without hesitation. "READ! Read the work of those you admire, and those you've never heard of, and those you never wanted to, across genres and generations. There are so many people in the world who have amazing stories to share, whether through poetry or fiction, or non-fiction, memoir or screenplay it strengthens your story when you finally want to tell it. So many of my students were very interested in being published but didn't want to read the work of other artists who had been published. It's a community, folks, and it's stronger if we all support each other."
When it comes to why Taos seems to draw and sustain creative women, Erin says, "The thing that helped sustain me and my own creativity and adventurous spirit is that I always had a place to return to, and there were always people willing to support me, and my poetry. I think of Taos as an energetic hotspot, and that energy reaches out to people, or women, with an internal spark and that energy helps to ignite that spark; adventurous or creative or otherwise."
And what are her things about Taos that keep her rooted here? "It is always the stars of the wide-open sky, the severe presence of the mountain and how it moves, the smell of the dirt after a summer monsoon storm. Those are the things I miss the most when I am away from Taos. The landscape has nurtured in me the sense that there is a greater presence in the world than just myself, than just my human experience." And her favorite places in Taos? "When I was young, it was Michael's Kitchen, Kit Carson Park or the Plaza. Now, though, it is much more about being in the air of Taos or taking a walk down Burch Street when the leaves are turning."
Photo by Adam Kerr