Jacqueline Gala, Silversmith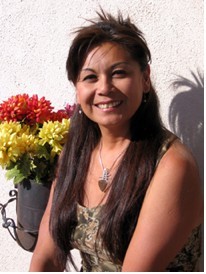 Silversmith and award-winning jewelry designer Jacqueline Gala began her career first as a painter, then a photographer. From a young age, she loved to draw and this talent served her in sketching images for science class in high school. While attending high school and college art classes at Santa Fe's Institute for American Indian Arts (IAIA) in the 1970s, Jacquie started painting. Finding that medium unsatisfactory as a means of expression, she turned to photography. She worked in one of her classes at the IAIA as a finish photographer specializing in horse-racing photos for the Santa Fe Downs racetrack. Still wishing to find a media that suited her, Jacquie arrived at silversmithing. At first, as an apprentice to a silversmith, she did polishing and finish work, and later began design work. She shared her early artistic endeavors and her memories of her own childhood with her children while they were growing up.

Jacquie's father Carmen Gala was in the military, so Jacquie only spent summers at Taos Pueblo surrounded by the family of her mother, Antonita Lujan Gala. She recalls the times when the family piled into the wagon (later a truck) to ride into Taos. In town the adults bought grain and other staples, ran errands, then gathered for a picnic of newly purchased bologna wrapped in the tortillas and green chili her aunties Isabel, Christine and Ralphaelita had packed. The family enjoyed sitting on the grass inside the adobe wall enclosure at Taos Plaza or at Kit Carson Park while people-watching. Jacquie remembers seeing Taos Pueblo men wearing their traditional blankets, long braids reaching to their waists—a sight special to that time. Jacquie particularly loved riding with her Uncle Jerry when he drove cattle to the auction in Alamosa, Colorado. Jacquie remembers how she, her sister Renee and her brother Glenn begged him to sing traditional Indian songs—and he did, all the way there and back. From him they learned the social powwow and round dance songs. They also learned the corn dance song and others unique to Taos Pueblo. These songs and the traditional dances they accompanied helped teach Jacquie Taos Pueblo ways and her place within the community.

In 1982 at age 20 Jacquie moved permanently to Taos Pueblo to raise her two children. Today she lives on the land where her relatives once raised corn, beans, squash and other vegetables that fed the family. Her children Nigel and Nastassja, now grown, inspire her work as does her boyfriend David Vedoe. Jacquie credits David with opening the doors to her creativity and teaching her how to express herself more openly. His European background in architecture and his architectural drawings and paintings provide Jacquie with forms and shapes that she incorporates into her trademark sculptural jewelry. Although European and Asian influences appear in her designs, the inspiration for one of Jacquie's first signature pieces, "Ribbon Candy," came from the undulating hard ribbon candy she devoured as a child.

Some of Jacquie's designs come to her at night. She's learned to keep a sketchbook by her bed, and is often up by 4 a.m. to sketch the newest form that she'll turn into a necklace, bracelet or some other sculptural piece. She is constantly experimenting and pushing the boundaries of silverwork by adding semi-precious stones, pearls and gold accents to her creations. Jacquie derives great satisfaction from seeing her work exhibited in galleries, museums and exhibitions. She delights in knowing that collectors from all over the world own her work. She's come a long ways from her first $100 investment in silver and soldering tools. Jacquie encourages others to take classes and workshops to experiment in a creative medium. It's hard work, but for her it brings the satisfaction of making a living from her art.

Jacqueline Gala's favorite Taos sites and sights: Listening to the river's water song at Taos Pueblo; watching the adobe walls of the North and South Houses turn rosy-gold at sunset.

For further information, visit: jacquelinegala.com or visit Jacquie in her shop at Taos Pueblo.
By Elizabeth Cunningham, 2011
Blog host, "Mabel Dodge Luhan and the Remarkable Women of Taos"