Teresa Loveless, Weaver & Gallery Owner
Taos is where I am meant to be. Almost my entire family lives here. And growing up here I have made so many friends who I consider to be my family, who still call Taos home. I love the people, the culture, the sense of community, the food. Every sunset seems more amazing than the previous one. I delight in being able to watch the summer storms roll in over the mesa while sitting in the grassy fields of Arroyo Seco.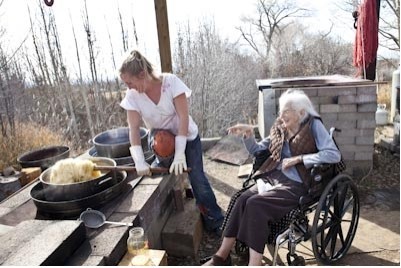 Teresa Loveless grew up surrounded by colorful tapestries created by her mother and grandmothers. As soon as her feet could reach the treadles of a loom, Teresa learned to weave. Encouraged by her grandmothers and her mother she learned the process, yet it was her maternal grandmother Rachel Brown, who provided constant inspiration and guidance.

When Rachel Brown moved to Taos in 1956, she came with a solid art background from years of study at Radcliff College, Harvard Graduate School of Design, and New York's Art Students League and Cooper Union. Although trained in architecture, painting, drawing and design, the beauty and designs of the Rio Grande and Navajo rugs she discovered in New Mexico provided a new creative focus. Working in this medium with its "magical twisting of glossy fibers and intertwining them with the warp" provided Rachel with a satisfying art form. Out of necessity she learned to spin and dye her yarns. From that time on she could only weave using the extensive palette of hand-dyed colors she developed. Rachel created Rio Grande Weavers Supply, a place where weavers could go to find a huge array of hand-dyed yarns, weaving supplies and looms. This eventually grew to encompass Weaving Southwest, established in 1987 as a space for local contemporary tapestry artists to display and sell their work. To share her enthusiasm for the medium and her experience with the art form, Rachel wrote and published The Weaving, Spinning and Dying Book in 1978. By that time her tapestries had been exhibited throughout the Southwest and in New York and Washington D.C. and placed in public and private collections in U.S., Canada, and Europe. In 1993 the National Museum of Women in the Arts in Washington, D. C. recognized Rachel Brown's work with a Life Time Achievement Award.

Yet for Teresa, Rachel was the amazing Grandma who always invented the most incredible characters for Halloween. One time her grandmother, dressed as an old bruja (witch), was so convincing that she fooled one of Teresa's uncles. When Teresa left Taos after high school, vowing never to return, Rachel supported her. She followed her granddaughter's adventures as she traveled and tried out different careers: studying frogs in the rain forest of Ecuador, working as a dive master in Hawaii, and attending art school in New York. Then three years ago a strange series of events brought Teresa back to Taos. She took over her grandmother's business Weaving Southwest, a tapestry gallery and a handweaving studio. Teresa soon realized that most people don't know what goes into creating woven rugs and clothing, and she dedicated herself to educating people about fiber arts. When people come into the shop, drawn in by the vibrant colors of hand-dyed yarn, they see the weavings of many of the Southwest's preeminent contemporary tapestry artists. They see weavers at work on looms. And they ask questions of Teresa who explains the process from the sheep and the selection of wool to hand dying the yarn to the finished textiles. She encourages people to try out different looms, to take a variety of classes, and to learn different techniques. Like her Grandmother Rachel before her, Teresa wishes to make weaving accessible.

Teresa Loveless's favorite sites and sights: Wool Festival (first weekend in October); Christmas Eve procession at Taos Pueblo; Torch Light Parade and fireworks at Taos Ski Valley on New Year Eve; Arroyo Seco 4th of July Parade

For further information, visit www.weavingsouthwest.com. Also see New Mexico's Fiber Arts Trail at www.nmfiberarts.org.
By Elizabeth Cunningham, 2011
Blog host, "Mabel Dodge Luhan and the Remarkable Women of Taos"
Photo of Teresa Loveless © Kathleen Brennan, 2011 www.brennanstudio.com