Delinda VanneBrightyn, Dancer, Performer, Artist
I believe that I have been successful in my career as an artist. I feel that one of my accomplishments is the simple fact that I have made my living through art with hardly ever the need for another job. At the same time I have been able to generously give back to my community. There may have been times when getting a job may have been considered a smarter thing to do, but I believe in my path as an artist, entrepreneur and community activist and I have stuck with that path even through the hardest times.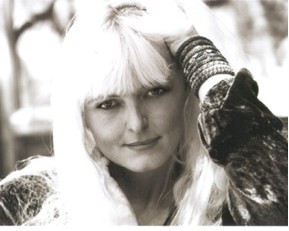 Delinda VanneBrightyn began her career in the performing arts at age 14. She worked in different dance forms—ballet, jazz, and tap—as well as singing and acting for theater and television. In her early days she shared the stage with such luminaries as Gene Kelley, Ginger Rogers, Bob Hope, Willie Nelson and BJ Thomas. Delinda's television career included directing and producing her own segment for a weekly show for which she acted as spokesperson. She also directed fashion, theater and industry pieces for TV.
In 1977 Delinda became artistic director of Dallas-based Sundance Professional Dance Artists, a company working in both concert and commercial performance venues. She developed the company so that dancers not only performed in traditional performance spaces but also brought their creative expression to the commercial market. Delinda's dance outreach to corporate clients included American Airlines, Panasonic and Levi Strauss. During this time modeling, directing, touring as a dancer and performance artist, and choreography engagements also took Delinda to Los Angeles, New York, St. Louis and other U.S. cities
"Passing through" Taos in 1984, Delinda encountered a force "beyond her own knowing" and instead of staying a few days, she became resident for the next six years. Unexpectedly, she was thrust into the world of visual arts and became Director of the Rod Goebel Gallery. Missing dance, she moved back to Los Angeles in 1990 where she worked as a dance and performance artist, and as a choreographer. This seemingly glamorous life halted abruptly two years later, when driving home after a rehearsal late one night, Delinda's car was hit by a drunk driver. This life-threatening incident put an end to her career as a dancer and changed her life forever. After a long, slow recuperation from head trauma, memory impairment and hearing loss, Delinda returned to teaching dance. After her students won the ballet competition at "Youth at the Greek," she went on to choreograph "The Nutcracker Ballet" in 1998 for the City of Los Angeles.
Throughout Delinda's life, her mother, Donna Lonsford (Lansfjord), provided inspiration and encouragement, especially in challenging times. Her mother's sense of humor, positive attitude and kindness shaped Delinda and taught her to see the good in all things, and to be kind, even in the face of unkindness. Foremost, she encouraged Delinda to pursue her passions and believed that she could accomplish anything she set her mind to doing. From her mother Delinda also learned that by helping others to succeed, she became more successful and genuinely happy for others' achievements and success.
When Delinda could no longer dance, she began working in fiber arts, balancing the tranquility of working in the studio with the hectic pace of performance art. She developed, owned and operated a gift manufacturing business, and hired 32 women to execute her designs. The resulting hand-sewn work sold across the country through the Los Angeles and New York Trade Marts. She began traveling and teaching fiber arts throughout California by 1994 and throughout the country by 1996.
At the end of 1999, Delinda moved back to Taos in order to pursue her own art. Over the next two years, she taught fiber arts across the country, mentored other visual artists and placed her fiber work in private collections and museums (including the Smithsonian in Washington, D.C.), and lauched a successful manufacturing business. In 2003 Delinda's artistic journey assumed anew career trajectory when she discovered the power and transcendence of glass. Now as a sculptor using kiln-formed glass and bronze, she could create contemporary figurative and abstract pieces influenced by the movement, power and grace of dance. Recently Delinda won an "Innovations in Glass" award for her design of a glass memorial wall.
Inspired by the possibilities inherent in glass art, Delinda became the founding director of the Taos Institute for Glass Arts (TIGA), an organization dedicated to the understanding and appreciation of the Contemporary Art Glass Movement. She organized the first Taos Art Glass invitational in 2008, and the following year added the "Walking on Glass Tour." Chairman of this on-going event, Delinda is preparing to celebrate the Remarkable Women of Glass in 2012.
Service to the Taos community remains important to Delinda as does the dissemination of her knowledge in the performing and visual arts. Through founding and operating the Sundance Performing Arts Center of Taos, she shares her knowledge of dance as a performer, instructor and choreographer. For nine years Delinda has served on the Taos Community Auditorium's Board of Directors, where she instituted the annual fund-raising Taos Quick Draw event. When she's not teaching art or dance, Delinda helps guide the Taos Search and Rescue. As a certified search-dog team, she and her K-9 partner Zatoichi work with other teams to help find lost or injured people in off-road areas throughout New Mexico and into Colorado. Asked about her volunteer work, Delinda states: "People, animals, the wilderness, the arts: these are my passions and service is part of me. It an important balance that maintains my creative and spiritual self."
Delinda VanneBrightyn's favorite Taos sites and sights: the outdoors and the natural beauty that surrounds Taos, within easy driving distance; the Bent Street and the John Dunn House shops; Ledoux Street and shops adjacent to the Guadalupe church; the Taos Inn and El Monte Sagrado to visit with friends; a stroll through Kit Carson Park; Dragonfly Café, the Love Apple, El Gamal, Lambert's and the Trading Post Café; Wired Café for a snack and business meetings; Taos Pueblo, the Mabel Dodge Luhan House, the Couse House, and the wonderful museums of Taos: a testament to the rich cultural life and history of this place.
For more information, visit: www.delindavannebrightyn.com or www.tiganm.org
Delinda's advice to aspiring artists: No matter one's passion in life or endeavor of choice, the first order of business is to believe in yourself and your artistic vision. To rely on others for approval or confirmation of you or your work will complicate your process. Remaining open to what others are saying about your work and yet not take it personally is a gift that will serve you well. Persevere, be patient, be open, and remain true to yourself and your own path. Learn to listen to and trust your own inner voice. Listen and follow.
Final word from Delinda: Art is a passionate dance of vision and skill, surrender and control, innate wisdom and abandoned whimsy…and compels that which is within to exist without.
By Elizabeth Cunningham, 2011
Blog host, "Mabel Dodge Luhan and the Remarkable Women of Taos"