Amy Cordova, Painter, Author, Educator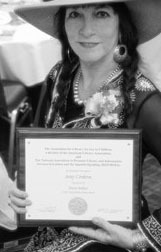 I am inspired to create from the deep wells of remembering, dreaming and possibility. Many times, my images are directly linked to a sense of place, story, emotion, and the sacred interconnection of all things. I love delicious, saturated colors and find that they speak well, in bringing forth the concept I intend to make visible.
– Amy Cordova (photo by Pattie Traynor)

Painter, author, art educator and award-winning children's book illustrator Amy Cordova draws her inspiration from the rarefied air and changing moods of the high desert of Taos. Her roots go deep: her family has lived in the Taos area for over 300 years. She recently realized that there is something sacred in knowing that her ancestors traveled the same routes and saw the same great peak of Taos Mountain that she experiences today. More directly Amy learned from her grandmothers Valera Munro and Josephine Cordova, who imparted a love of learning and of place and who instilled a determination to overcome obstacles despite the odds. They also taught her to make a nice banana cream pie.
Amy spent most of her childhood in Wisconsin where her family lived, and visited her father's family in Taos in summer. Amy raised her own family in rural Wisconsin near the borders of Minnesota and Iowa. For ten years she lived off the land, grew her own food and adopted black orphan lambs as pets for her children. The family lived on less than $1,500 a year and bartered with neighbors and young people who lived in nearby communes. Looking back on this time, which Amy refers to as "Mother Earth Jokebook," she is grateful for her children's opportunity to grow up in the natural world. She remembered sending them out on treasure hunts to find berries that grew on the hillsides and to watch carrots grow in the garden. From this experience Amy learned survival skills, self-sufficiency and self-reliance.
Some of Amy's neighbors were Amish women who made spectacular quilts. She noticed that these women, who had access only to local stores within buggy-driving reach, sewed with the readily available but difficult to handle double-knit fabric. Amy had always worked with her hands and took up quilting. She also loved color and this led to her becoming a jobber in the late 1970s for the Amish quiltmakers, and procuring bright, solid color 100% cotton fabric for them. Together they produced "Sudden Comfort" quilts. Amy began designing her own picture quilts: she basted the fabric together and commissioned Amish and Hmong women to finish these hand-sewn assemblages of fiber art.
Then one day in the early 1980s, Amy saw an exhibition of Francesco Clemente's paintings at the Minneapolis Institute of Arts. Struck to the core by this contemporary artist's large, ruby red and bright yellow abstract figurative works, Amy wept. Not only did she intuitively understand Clemente's pictorials—the saturation of color, the emotions behind them—she liked their rich color and texture, their immediacy. Examining Clemente's loose, childlike figure work, she realized that artists didn't have to paint like the Old Masters: painting was within her reach. On the way home Amy stopped at an art supply store and purchased oil pastels and heavy paper. As a youngster, at the beginning of every school year she had saved up to buy a box of 64 color Crayons to draw pictures. Her new oil pastels allowed her to "draw like when she was a kid" and gave her the same immediacy that she saw in Clemente's work.
Describing her work as "neo folk art," Amy began to paint professionally. Her big break came on the day that Georgia O'Keeffe died in March 1986. Amy had flown in to Santa Fe for an appointment with Elaine Horwitch. When she showed the legendary art gallery owner her pictorial quilt of Buffalo Bill's Wild West Show, Elaine immediately purchased it for her own collection. She also took Amy under her wing, and showed her work along with other contemporary artists like Fritz Scholder. For a number of years audiences in Los Angeles, Santa Monica, Chicago, Minneapolis, Portland, Oregon and other cities saw exhibitions of her work. Amy's paintings now reside in private and corporate collections throughout the U.S. and Europe.
The world of illustration opened another creative window. In 1997 Simon and Shuster published Abuelita's Heart, written and illustrated by Amy. From a family of wonderful storytellers, Amy also remembers her elders reading aloud to her. She entered the world of books in early childhood and at age 10 declared to her mother that she would one day write and illustrate for children. After a successful career exhibiting her paintings in galleries and museums across the country, Amy's prophecy came true. She now has over fifteen children's books in print. Besides creating two of her own, she has illustrated stories for other writers including Rudolfo Anaya and Enrique Madrid, two of New Mexico's most celebrated authors and folklorists. A two-time winner of the American Library Association's prestigious Pura Belpre Honors Award, Amy also received the 2011 America's Honor Award at the Library of Congress in Washington, D.C. for her illustration of Fiesta Babies by Carmen Tafolla. This year 12 of her illustrations from 3 of Rudolfo Anaya's books are part of a travelling exhibition titled Latino Folk Tales: Cuentos Populares-Art by Latino Artists. Amy is one of ten talented, award-winning illustrators of bilingual children's books chosen to represent the Spanish-speaking regions of Mexico, New Mexico, Puerto Rico, Central and South America.
In addition to making art, Amy has served many years as an arts educator. With her roots in the traditional culture, language, history and art of New Mexico, she has helped design and implement curricula programming for schools in the state. She also helped boost language arts when she traveled on behalf of the National Endowment of the Arts' program, The Big Read. Through visits to libraries and universities in California, Texas, Nebraska, Wisconsin, Minnesota, and Oklahoma, Amy shared the creative spark and childhood magic encompassed in books. Asked what is next, Amy plans to return to the immediacy of monumental-scale pastels, saturated in brilliant color. Working large will provide a refreshing contrast to the exacting, detailed precision of book illustrating. No matter the medium, sense of place, interconnectedness and traditional cultures continue to inform Amy's holistic approach to the arts.
Amy Cordova's favorite Taos sites and sights:
Taos Pueblo, following the narrow dusty backroads around Taos; the dramatic, spectacular panorama of the Taos Valley from the overlook and from the ridgeline of Blueberry Hill.
For more information, visit Amy's website: www.amycordova.com

By Elizabeth Cunningham, 2011
Blog host, "Mabel Dodge Luhan and the Remarkable Women of Taos"