Sandra (Zandi) Richardson, Clothing Designer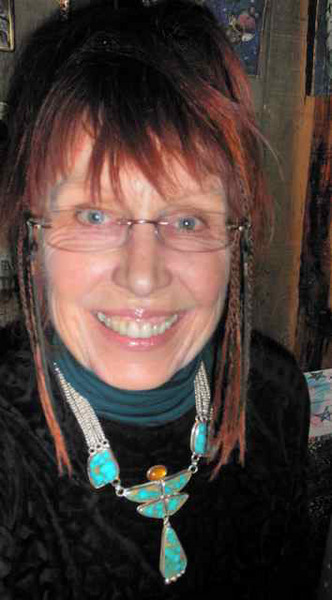 Born and educated in Colorado, Zandi came to Taos as a Tribal Art & Antiques dealer by way of Sydney, Australia. She indulged her passion for the arts and her eye for color by representing other artists because an art teacher in the late 60's at the University of Colorado, Boulder told her, "Forget your dreams of being an artist, because you can't draw. You can't be an artist." With those burning words implanted, Zandi gave up that particular dream – at least for a time. 

But, upon arriving in Taos, she found herself drawn to classes with artists like Jim Wagner, and the top flight art and creative writing courses offered at UNM-Taos and others. Continuing on her path of re-invention, Zandi was drawn to writing and fashion design; she has accomplished all these goals, thanks to the wealth of creative people and the stimulating environment of Taos.
Zandi is a member of TAO-Taos Artist Organization; sells her work in the Taos Art Museum Gift Shop, and shows at the Town Hall and other craft shows. Adding to her resume are movie stars Shirley MacLaine and Goldie Hawn who proudly wear Zandi's fashions. Zandi began writing with the Jane Hardey Writers Group twenty years ago and has written professionally for the Taos News. For several years she also penned a column, "Renegade Style" with the independent Taos newspaper, The Horsefly.
Zandi always tells people "to follow your heart...to do what you love. And always believe in your Dream, even if no one else does.
 Also, work hard, persevere, and be willing to learn from those you admire. What I think makes someone stand out is 'sharing their vision'. People I admire most do this...as do the Taos Pueblo people by sharing their ceremonies."
In 2007 Zandi won a 1st Prize Blue Ribbon in the Taos Fall Arts Festival For a wearable art coat. And that inspired her to put into motion the Annual Wearable Art Fashion Show presented during the Taos Fall Arts Festival in which Taos County designers showcase their wearable art.
As she says, "Why should walls have all of the fun?"
She draws inspiration from fashion icons Millicent Rogers and Martha Reed. They had their own vision, and incorporated local Native Designs into high fashion. She loves incorporating ancient designs with new styles.... and really admires Unique Vision.
The beauty of Taos is always inspirational to Zandi. The tri-cultural living continues to nurture her growth as a human being emotionally, spiritually and creatively. On the Day of The Dead in 2007 she discovered quite by accident that her Grandmother was born in Rincon, NM and her Aunt Blanch homesteaded in Mills, NM. So, although she didn't know it when she came....she was actually returning home! Zandi considers herself a member of the "Mud House Mujeras" clan.... the land is in her adobe home and soul. In 1994 she bought an historic adobe in Talpa after years of living in Sydney, Australia. It embraced her heart and soul and she can't imagine living anywhere else in America.
As to her future goals she is very clear -- to continue to explore and expand her creativity...and continue to make items that add beauty to the world and make people smile, like her current inspirational magnets and "Goddesses Don't Iron!" collection.
Zandi's favorite places are Pot Creek, Taos Pueblo, the view from the Overlook on Hwy 64, and her own back yard.