Barbara Brandenburg Brenner, Arts Patron and Historian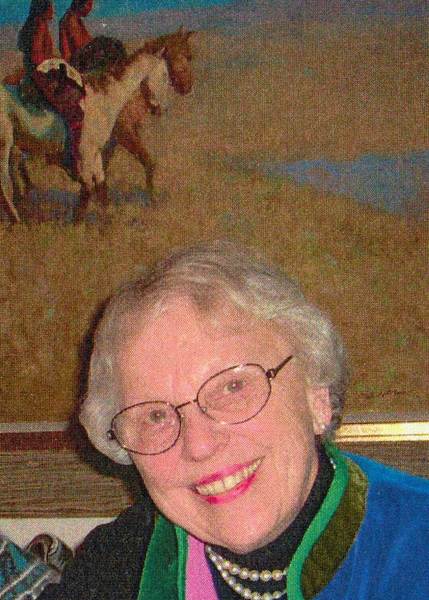 Barbara Brandenburg Brenner, granddaughter of Oscar E. Berninghaus, was born and raised in Taos at a time when all the "founding" artists were still alive and working in Taos. She had the good fortune to know all of them, although for some she just has childhood memories.
Born in 1929 in Santa Fe (where the nearest hospital was), Barbara was educated at Taos Elementary School, the Brownmoor School in Santa Fe, and holds a B.A. from Colorado College where she majored in sociology. Years later, upon reflection, she wished she had studied Economics instead, but at that time it was not considered the right thing for young ladies to study!
Barbara easily relates an astounding recollection of events surrounding the end of WWII:
On July 16, 1945, we were all asleep in our tents at the Lee ranch near Grants, NM when we were awakened about 5:00 a.m. by a huge explosion. Everyone came flying out of the tents wondering what was happening. Floyd Lee called someone and was told that an ammunition dump had blown up around Alamogordo, some 250 miles to the southeast. The consensus was that it must have been one helluva ammunition dump! A neighboring rancher woman said that she was milking the cow when she heard the blast and saw a blinding flash of light in the sky. (She also said that the milk turned sour…..but I think that was just a good story). Mom said that she saw the light in the sky also. Anyway, on August 6th, Hiroshima was hit by the atom bomb, and the mystery of Los Alamos was solved. I don't know if it is something to be proud of, but I can say I heard the first atomic bomb blast.
She met John Brenner at a friend's wedding in 1950 and one year later they were married. John and Barbara moved to Olympia, WA where his family operated an oyster business. Their daughters, Marcia and Anne were born there, but the family returned to Taos in 1960 as they realized the business would not support his and his brother's families, and John had an opportunity to enter the banking business in Taos.
Barbara Brenner is a natural historian. She has tirelessly collected and preserved hundreds of news articles and memorabilia concerning the life of Oscar Berninghaus since his death in 1952. She has also located more than 1,400 of his paintings in museums, galleries and private collections. In 1985, she researched, edited, and published a book about her grandfather.
Barbara's family history is what has inspired her to work with art and cultural organizations in Taos. Over the years, she has served as a Director, Chair, or member of many boards in Taos including the Taos Historic Museums, Millicent Rogers Museum, Taos Art Association, Taos Opera Guild, Taos County Chamber of Commerce, Women's Chamber of Commerce, Taos Student Repertory Company, and was a founding member of the Taos Art Festival which is now in it's 37th year.
Barbara recalls growing up riding all over the surrounding mountains, fishing the rivers, and even hunting; she always feels happy when she comes over the ridge and sees Taos in front of her. Feeling that she truly belongs here, Barbara loves the mountains, the high plains, fly-fishing streams, the aspens in the fall, and the expansive space and astonishing views in all directions.
Adding to the geographical features of this valley are the unending cultural activities in which Barbara participates. She proudly proclaims that, "Taos is blessed with world famous art and museums, musical events, and informative activities that are quite remarkable for a town of this size. Not every town in this country can offer what Taos does!"
Her favorite places include fishing at Costilla and Hondo, picknicking in the Hondo Canyon, the Taos Golf course, the TCA and Harwood productions, all other Museum exhibits. Her favorite restaurants are the Ranchos Plaza Grill and Doc Martins.

With her characteristic broad smile, Barbara describes the kinds of people who live here as, "crazy, wonderful, and worth knowing!" She attributes Taos' multi-cultural heritage for a very interesting group of friends and acquaintances and believes there are many younger women to watch here. She says, "Those who stick it out here will continue to work for a better Taos". Included among them are her daughters, Marcia Winter and Anne Brenner who have already contributed significantly to charitable and cultural organizations.
Barbara Brenner is indeed a true Taos treasure who remains a civic activist and continues to exemplify the title of a Remarkable Woman.