Tanya Ocañas Vigil, Aztec Dancer, Gallery Director
... elementary school arts coordinator, and curator
When I first saw Aztec dancers in Taos, I was completely taken by it. It called to that side of me that I had never realized: the mezclar or mix of Hispanic, Native and Mexican blood. So I wanted to learn the authentic Aztec dance, and studied with Moises Gonzalez Barrios. In 1990 the year I was made Capitana or leader, I founded Izcalli In Nanantzin Danza Azteca, my group of dancers based in Taos. I'm married to Michael, but I am married to the danza as well.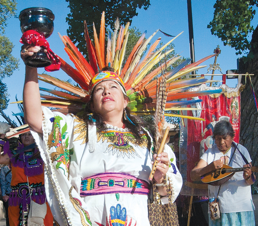 Thirty-five years ago traditional Aztec dance captured Tanya's soul, but her heart belongs to her family and her community. Born in Taos to Manuel and Flossie Ocañas, Tanya traces her lineage back to the plaza of Ranchos de Taos ("ranchos" referring to military outposts dating back to the 1680s) which was completed in 1779. Tanya credits her jazz musician father with teaching her the essence and beauty of music. Both parents fostered a love of the arts. One of Tanya's earliest memories was seeing her neighbor, the famed Flamenco dancer Maria Benitez (born in Taos), perform at the San Geronimo Lodge.
When Tanya was six, her parents moved the family to California and later to Wisconsin. Living in these places broadened Tanya's horizons in unforeseen ways. In his job as migrant worker coordinator for the State of Wisconsin, her father ensured that the people were treated with dignity and that their children went to school. Manuel Ocañas's humanitarian approach, and his belief that activism was a kind of spirituality, led to Tanya's involvement years later with the United Farm Workers.
In the Wisconsin years, Tanya's mother taught English as a Second Language to migrant workers and their children. Back in Taos in 1971, Flossie resumed her career as a school teacher. In her later years, she managed the Manos Amigos (Hands of Friends) thrift shop for the San Francisco de Asis Catholic Church and was also a member of the Secular Franciscans. Flossie's empathy for children, and her community involvement and loving ways profoundly impacted her daughter. Those loving ways modeled respect for various spiritual traditions and celebration of all cultures. Tanya recalls her mother saying "We all have one thing in common: the color of our blood." Asked about her mother's legacy, Tanya feels called to "continue to bring light and compassion to others in need, to help and to love people."
In the late 1970s Tanya followed her parents lead and became a social activist. Her desire to work alongside Cesar Chavez, Dolores Huerta, Olivia Nieto and other participants in the United Farm Workers movement took her to California. There she helped organize the UFW and helped migrant workers through various activities, including talking with growers about how using planes to douse fields with pesticides was harming people, the land and the water.
Returning to Taos in the early 1980s, Tanya resonated with the business of selling art. She worked for the Desurmont Gallery and eventually met and married artist Michael Vigil, son of the well-known Taos painter Veloy Vigil. Tanya helped out at the Vigil family's Gallery Elena, where she fostered the mission to represent a select number of contemporary artists chosen for their originality and quality of work. Tanya has curated numerous exhibitions, like the one last fall that featured painter Ann Huston, silversmith Jacqueline Gala and printmaker Michael Vigil. The 2011 holiday show expanded to include painters Amy Cordova, Mary Doolittle, Conrad Cooper, Dan Vigil, and Taos Pueblo sculptors Robert Shorty and his daughter Pollen Shorty.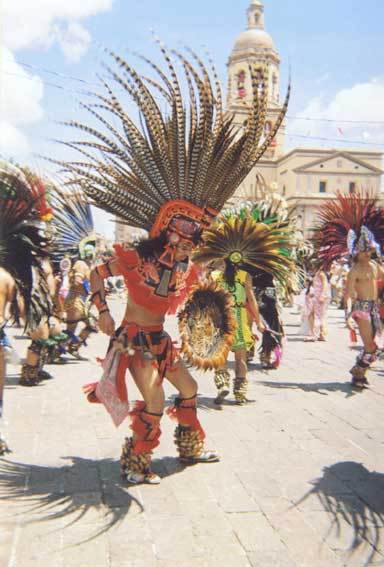 Sixteen years ago Jane Mingenbach and Barbara Brenner of the Taos Art Boosters asked Tanya to take over the annual children's art show held at the Stables Gallery. Choosing a theme for each year, Tanya and Michael have curated art works created by pupils from municipal and private elementary schools and home-school children for fifteen years. In 2003 when the New Mexico legislature passed the Fine Arts Education Act, which provided funding for elementary school-age children to participate in arts programs including visual arts, theater, music and dance, Tanya created the Visiting Artists program. She hired local professionals to teach their area of expertise. This not only allowed school children to have contact with working artists and experience various artistic media (including jewelry, puppet making, Spanish Colonial colcha embroidery, Taos Pueblo micaceous clay pottery, fused glass, flamenco dancing and writing in addition to the more traditional drawing and painting), the program also created a kind of apprenticeship.
As a result of this creative experiential learning, the Visiting Artist program hit the stated target, to help students develop a "vocabulary and an understanding of multiple art media and its role in diverse cultures." The quality of work inspired the Millicent Rogers Museum to showcase the creative talents of elementary school-age children starting in 2006. Ever expanding on art services for children, this past February Tanya with fellow educator Amber Paz-Csibi and writer Teresa Doval-Page formed Taos Art Beat, a new non-profit that kicks of this summer. The aim of the Taos Art Beat programs is to allow children "to express their creativity, explore and develop confidence in their own skills and imagination."
As if the school programs and the gallery aren't enough to keep Tanya busy, she has also spent decades working on land use issues and historic preservation. What keeps her going? Her love for Michael, her family and friends, her community…and the danza. Starting in 1990, Mexico (200 miles north of Mexico City), she and her troupe made an annual trek to participate with 3,000 Toltec, Mayan, and Aztec dancers in a four-day marathon dedicated to the danza.
In Taos Tanya's Izcalli In Nanantzin Danza Azteca performs at various venues involving peace and justice. For example, she and members of her group appear in support of annual tree plantings organized by Rev. Yusen Yamato (a Buddhist Monk and Japanese native resident in Taos) that started in 1990 as part of the Global Peace Walk.
After Izcalli In Nanantzin was recognized as a traditional danza azteca group by the family Martínez Cardóna of Queretaro, Mexico in 1990, the group received an estandarte (banner), which honors Santiago de Los Cuatro Vientos (St. James of the Four Winds). In honor of their patron saint, Tanya's group celebrates his feast day in July with a velacion (vigil). Last year the 12-hour vigil began at 9 p.m. As Tanya described it: "The velacíon will last most of the night and will be celebrated with 'flor y canto' or 'flower and song.' " The following morning the Aztec dancers, dressed in full regalia, processed to the San Francisco de Asis church, then danced for five hours in the surrounding plaza in Ranchos de Taos. Following the dance, Tanya and members of her group provided a feast for participants and visitors at the St. Francis gym. Stating "We encourage the community to be part of this event," Tanya opened the feast day celebration to Taos residents and visitors to Taos. For her the danza is a prayer that "creates a consciousness of love, peace, and harmony." It is an offering and a prayer that sustains her and enriches the Taos community.
By Elizabeth Cunningham
Blog host for "Mabel Dodge Luhan and the Remarkable Women of Taos"
Tanya Vigil spends quiet time walking along the Rio Grande and at the Pot Creek Historic Site near Southern Methodist University's Fort Burgwin. She enjoys having breakfast at Gutiz restaurant and frequents the sushi bar at Sushi A La Hattori.
Photo of Tanya Vigil by Rick Romancito from an article that appeared in the Taos News in October 2011. © 2011 The Taos News and Rick Romancito
Photo of dancers in the plaza in front of the church at Queretaro, Mexico by Tanya Vigil, © 2102