Nancy Stapp, Radio Personality
If this place belongs to you and you belong to it, you'll know exactly what I mean. It wasn't until I came to Taos that I had an actual visceral reaction to a place...I was finally home.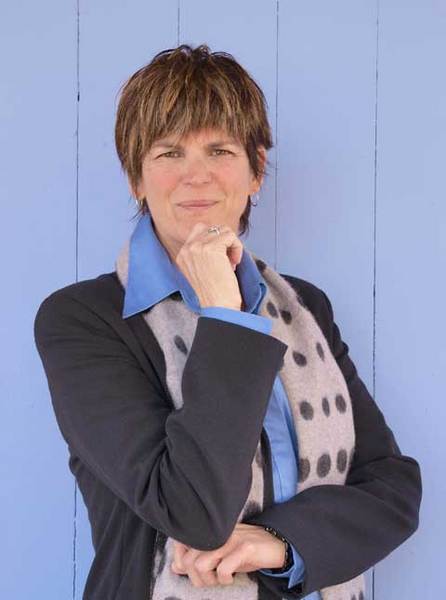 Growing up in Fresno, California, Nancy Stapp never considered a career in radio or a life in New Mexico. Though she was the first female student body president in the history of her high school and won multiple awards at the California State Championship for Speech and Debate, when she graduated no one ever recommended that she look for a job in broadcast media or politics. She was on the edge of a generational shift for women.
Her first job was as a switchboard operator at her father's lumber company, General Box. Nancy credits her father as the most inspirational person in her life. "My dad said to me, 'You can be first female president not only of your class but of the United States'. He had no gender restrictions. Some of the lessons that I learned from my dad were to know that anything is possible, to be patient, and to do things as well and as authentically as you can. He always did that." She escaped the suburbs of Fresno and found herself in the Bay Area at the College of Marin and later San Francisco State University studying Marine Fisheries Biology.
While moonlighting in college, Nancy learned how to be a chef from Joan Baez's uncle, Skip Henderson, at Henderson's Restaurant in Larkspur, California. Nancy knew that she could not afford to continue living in Marin County after college, so she began searching for a smaller, more affordable artistic community. Her geology professor, Mary Hill, had a home in Taos and insisted that Nancy add it to her list of places to visit. "I drove into this place from the Colorado side and thought, 'I don't really get it.' But as soon as we got into town and I stepped out of the car, there was a quality in the air that felt textural, like my skin was wrapped in silk or velvet and the aroma of sage after a summer storm. Everything seemed so clear and prescient. I had never felt so fully alive in my life. While I was standing on the plaza taking in this place that felt so familiar, a short, impish woman with wiry, white hair sprung from the kiosk that I hadn't even seen before. 'I'm Jinx,' she said. 'Is this your first time here? Come with me.' So began a journey from the foothills in El Salto to the south gorge. I met women who were potters, former nuns, sheepherders, horsewomen, a judge, a lawyer, a retired teacher, a fireplace builder, a photographer and artists of every genre, even Agnes Martin. I had no idea who this eccentric (and even a little grumpy) painter was. But like the rest of these Taos women, she was fully herself. I found the women in Taos to be wild and passionate, self sufficient and not afraid to get dirty or injured in love or art. These women had authentic faces, worn and creased by the bright sun, winds and dust. I was in love with them all. Their hands were callused, bore no polish and were adept, it seemed to me, at everything."
During that visit to Taos, Nancy was dining at the Apple Tree when then owner, Polly Raye, heard that she was a chef and she hired her on the spot. Nancy packed up her things and was the new head chef at the Apple Tree. After a few years of restaurant life and a myriad of interesting friends and experiences, Nancy was asked to fill in at a local radio station from 10pm-2am. In the most unlikely place, a trailer that rocked in the wind with no plumbing or bathroom chock full of record albums hand-picked for that evening's selection, a quarter turn into a perfect segue, the mic cracked open, and Nancy knew this was what she was born to do.
The microphone, the music, the conversation and the connection was the canvas I had been looking for my whole life. When I turned on that microphone, it was as though the whole world made sense to me along with my piece in it, and it has been a love affair ever since. And I do mean love affair in the truest sense. Sometimes I hate the bum and want to throw him out, but radio keeps coming back just like Taos.
Nancy was hired right away and moved to the afternoon shift where she interviewed gurus who had lived in caves in India for 30 years, angry county commissioners (one who even kicked open her studio door), musicians, poets, Taos characters, artists and wanderers. Nancy always says she felt that the radio was a kind of plaza, a meeting place where we exchanged information about births and deaths and lost horses and found dogs and disasters. One such disaster rocked the Taos community to its core. On a windy afternoon in late spring, a fire raced up the canyons of Hondo into Lama, becoming one of the worst fires in Taos' history. Nancy lived within eyeshot of the radio station and when the plumes of smoke began to rise, it was clear something serious had begun. The air became thick with smoke, and it wasn't long before chaos ensued. Nancy was the first to hit the airwaves and stayed there around the clock. The radio station ran nothing but fire information 24/7. Nancy felt the true power of radio to connect people in trying, desperate times. It was an emotionally wrenching several weeks as the orange glow could be seen from all corners at night, and the fire seemed unending. For Nancy, radio has always been about and always will be about connection. "Radio, like Taos demands honesty. It is the most personal of mediums. The voice never lies."
Called away by larger radio markets, Nancy won several awards in Broadcast Radio Journalism over the years including "Best Radio News Series in the Nation" presented by Diane Sawyer from the American Women in Radio and Television. Nancy's style of reporting and feature writing stood out as she picked up multiple awards every year in every category possible, but it was ultimately Taos that called her home. Nancy says that her time as a reporter gave her a deeper empathy for those at the margins, whether they were held there by drugs, border patrol agents, inequities, or an abusive partner. But with news, it's just the facts. She longed for Taos like an unrequited love and for that connection with the listener, and she often wished sometimes as a reporter, she could cry or rage or call for change. A reporter can only deliver the news without emotion, without passion. It just didn't seem right. After several stints from San Diego to Talk Radio in Northern California to Air America in Eugene, Nancy made it back home to Taos in 2006, "For me, it's the raw authenticity of the landscape and the people. Everything still seems possible to me here. Taos is both sides of the coin. It's the best of things and the worst of things, but there is nothing boring or dispassionate about this place or its people."
When I'm on the air, the question I ask myself is "How authentic is the thing you are about to say, how true are you being to yourself?" Some days it's spot on and other days I think, "No, you went with the sheep," and that's the push here for me. To show up on the radio completely naked, naked in my soul and expose more of my authentic self to you even if the next day everything has changed. What I have noticed is the more willing I am to show you "me," the more willing you are to respond in kind. Oh, and don't get me wrong, I've been threatened, protested, intimidated and some nights even afraid for my own well-being and that of my family for the truth we spoke on the airwaves the day before. But, I also know that when a young man was brutally thrown off of the gorge bridge and a call was made on the radio for healing, Reverend Steve Wiard from El Pueblito Methodist Church and I asked the community to come and meet us on the bridge to be together, to pray not only for the victim but for the other young men who were so angry and whose lives were now so shattered. Steve and I stood on the west side of the bridge wondering if anyone would come. When we first started to see a virtual sea of people arrive, it was as though something amazing happened. Hundreds of people came from all over New Mexico from every ethnic background, every walk of life. While I can't explain what happened, our connection turned that horror into something beautiful. That has been my metaphor for radio and what I hope for every day I sign on. Over 30 years in radio, I am absolutely convinced that through our honest sharing via the airwaves, I've become a better person.
So, how does Nancy recharge and where does she look for inspiration? Though not a Native American, Nancy expresses deep gratitude for the welcoming nature of Taos Pueblo. It is there that she finds her deepest connection with spirit. Christmas at Taos Pueblo holds a particularly special place in her heart. When the world seems to have lost its way, Nancy finds her deepest solace on the hiking trails of the Sangre de Cristo Mountains.
By Heather Pipkin
Photo by Robbie Steinbach
You can hear "Breakfast with Nancy" weekday mornings from 7-10am on 1340AM KVOT or listen online at www.1340kvot.com.