Kathleen Burg, Writer and Artist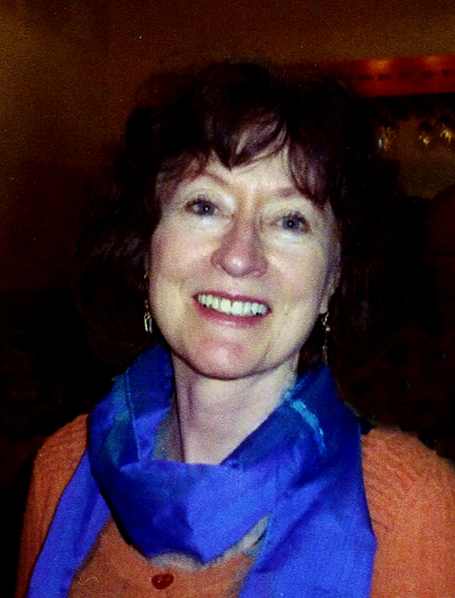 People who meet Kathleen Burg for the first time may be struck by her intensity, the warmth of her smile and the lively sparkle in her blue eyes. She's as Irish as a four-leaf clover, but you may have seen her at the Taos Jewish Center working with fellow writers, or leading a small group of elders through a gallery or a museum. You may have heard her croon at weddings or belt out Christmas carols with her ad hoc group, the Moonlight Ladies, at the Harwood Foundation. You may have come across her sitting on a rock gazing at the moon, or passed her on a sunny mountain trail like Columbine, climbing through the graceful aspens with her husband and their dog.
The high mountain desert of Taos is a far cry from the lakes and meadows and woodsy, green farmland of Wauwatosa, Wisconsin, home of gourmet cheeses, where she was raised. As a child, Kathleen read voraciously. The grim tales of Charles Dickens, set in the slums of 19th Century London, inspired in her young heart a passion for social justice. Also, she was fortunate to have parents who encouraged her to study piano and painting. "These arts, along with writing, and a certain social consciousness have sustained me throughout my life," she said.
She headed out to the West Coast in the early seventies where she lived in an old movie star's house with "an assortment of typical L.A. characters." She became involved with her first support group and Judy Chicago's Feminist Studio Workshop. She began to keep a journal and participated in performance art and important political demonstrations of the day: women's rights, no violence against women, and gay rights. She was excited to be part of the women's spirituality movement, and the national movement to bring women's art into the mainstream.
She received an M.A. in women's art and education from Goddard College in Vermont.
In 1980 an artist friend invited her to Taos. "Taos has been one of the great loves of my life," Kathleen said. "It was still off the beaten path when I first moved here. Jobs, resources, and money were scarce, so I started 'doin' the Taos shuffle'—working multiple jobs."
Newcomers either develop a "can do" attitude or move away, she explained. "Thinking outside the box is really helpful here. Exploring the diverse possibilities is what helped the early inhabitants of Taos to survive. Later Taos became a welcoming haven for strong women. I arrived as an independent woman and stayed to transform, willingly, into an interdependent member of this culturally unique community."
Kathleen may have inherited some of her strength from her paternal grandmother, Alice Marie Fennessey, whose parents immigrated to America from Tipperary, Ireland during the Great Famine. While still a young woman, Alice staked her own claim to 166 acres of land in the plains of South Dakota and homesteaded it alone. When her house and barn burned down her grandmother lifted her chin and said, "There's no use crying over spilt milk."
"She had pure grit," Kathleen said. "Her incredible determination and fortitude taught me that when the going gets tough, you keep on going."
Kathleen's curious and generous nature led her to forge connections and lasting friendships throughout the Anglo, Hispanic, and Taos Pueblo communities. "I like to bring people together," she said. "An old Brazilian proverb says, 'When I dream alone, it is just a dream. When we dream together, it is the beginning of reality.'"
In 1982 she helped organize the first women's conference, "Taos Women Together," held at the Sagebrush Inn. She also acted as co-coordinator for Taos Talking Picture's Teen Media Conference and served on the Advisory Committee for the Millicent Rogers' exhibit, "Art of the Book."
As Program Director for the University of New Mexico-Taos National Elderhostel Program, "Adventures through Learning," Kathleen invited some of the region's leading archeologists, anthropologists. historians, artists and spiritual leaders and to present lectures and workshops that she hoped would promote a deeper cultural understanding for the participants.
Working as Director of the Chesed Project for Seniors at the Taos Jewish Center, Kathleen became aware of the growing epidemic of Alzheimer's. She decided to focus on the Alzheimer's family caregivers. She wrote numerous grants and articles and developed unique programs for the caregivers and the elderly.
As a writer and artist, inspired by a program at the Museum of Modern Art, (MOMA) in New York City, she created "Artstreams: From the Well of Memory," which provides interactive group discussions of current exhibitions at Taos museums and galleries for Alzheimer individuals and their caregivers.
Kathleen said, "Artstreams provides not only respite for the caregivers, but just looking at art sometimes evokes an emotional response in an Alzheimer's patient that triggers a childhood memory. This comprehensive support system, combined with a caregiver support group, fills a huge gap in services for those families in Taos County affected by Alzheimer's." Caregivers often speak with gratitude of how these services and Kathleen's caring changed their lives.
As a result of this groundbreaking work, the Chesed Project was the recipient of the National Caregiver's Legacy Award in 2009, and received a $20,000 award—no small feat for a small town program.
"To be part of the growing consciousness about the complexity of aging helps me to understand my own process," Kathleen said. "I am so grateful for all the support we have received on the local, regional, state and legislative level."
Not long ago, Kathleen married her long-time partner Larry L. Herrera, a seventh generation Taoseno. She still experiences Taos as a simple yet magnificently complex and timeless place. Underlying the variety of traditions, religions and history, she has discovered an ancient interconnectedness of people, space and spirit. She sees how the arts and social consciousness in Taos are challenged and nourished by the wildness/wilderness/wildlife of the high mountain desert, the ever-changing light on our ring of blue mountains, the drumbeat at the heart of the Pueblo, and the Spanish love songs raised to God in the old adobe churches all around.
By: Phaedra Greenwood
Photo by Joan Malone