Gloria Longval, Artist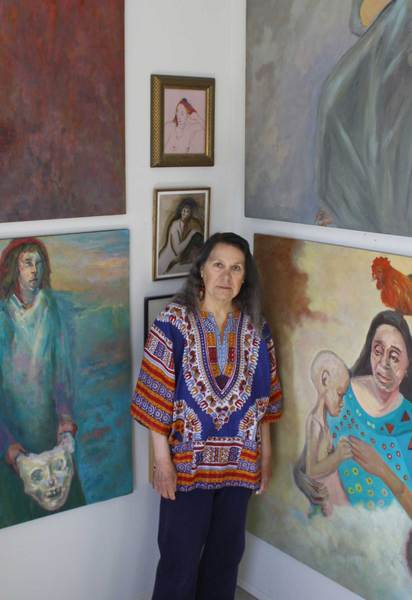 The life and work of Cuban American artist, Gloria Longval, is a testament to the triumph of the human spirit. Despite an upbringing riddled with adversity, Longval has achieved a remarkable level of professional excellence and distinguished merit. Her work is represented in prestigious collections throughout the world, including those of the Los Angeles County Museum of Art; Museo Nacional Palacio de Bellas Artes de la Habana, Cuba; San Diego Museum, CA; and Riverside Art Museum, CA. A figurative artist, her paintings speak of the universality of the human condition and the dignity of all global citizens.
Born in 1931, into an impoverished family in the Cuban colonia of Ybor City, Tampa, Florida, Longval was an illegitimate child. When she was three months in utero, her father drowned in a fishing accident in the Gulf of Mexico. Birthed into the milieu of grief surrounding Longval's 16-year-old mother, Beatrice, Longval spent the first several years of her childhood restricted from socialization with other children, as she was ostracized for her illegitimacy. "My only playmates were my uncles," says Longval. "Emilio, who was just a few years older than I, was always drawing. He called it 'majica,' and said he would teach me. From that day on it no longer mattered if other children played with me. I had found my salvation."
Longval says she always had a love for learning, but her early experiences in school were far from enriching. "I grew up in a Spanish-speaking household, but when I went to school I was punished for speaking my language, hit and made to stand in a corner. This was very confusing to me. I didn't know who I was."
In 1939, weary of being shunned by her community, Beatrice moved herself and her three children to New York's Spanish Harlem. For young Gloria, the ostracism was replaced by violence. "I only went outside to go to school. The violence of the gangs and the solicitations for prostitution were terrifying to me, but there was also the violence of my mother's estranged husband, whom she married when I was two. He was very jealous and would beat her and threaten to kill her."
When Longval was 9 years old, she and her younger siblings became wards of the state. "The two years that I spent in the children's home were the most frightening and sad years of my childhood." Eventually returned to her mother's care, she had become extremely withdrawn. "I wouldn't speak and the school authorities thought I was retarded, so I was put into a special class with all the misfits." It was here though, that she encountered her next salvation. "My teacher, Miss Smith, or Smitty as we called her, allowed me to spend my days drawing, and after two years I told her I wanted to learn to read. That was the beginning of my formal education. It was Smitty who saved my life. She was also my first painting teacher and the first person to tell me that I could be a professional artist if that's what I wanted."
While in high school, Longval worked fulltime to help her mother support the family, yet she managed to graduate with honors. After high school she won four full scholarships to attend the Art Students League and the National Academy School of Fine Arts in New York City. In 1950, she became a private student of artist Dick Ralph, whom she fell in love with and married. The couple enjoyed thriving careers, and established their own art schools in New York City and then in Los Angeles. "My husband was my best friend and the most remarkable man I have ever met. He too, was my salvation." With Ralph's untimely death in 1965, and surviving a subsequent suicide attempt, Longval struggled to maintain her career while raising the couple's two young children. Over the next several decades she gradually re-established her place in the art world, receiving numerous accolades for her artistic achievements and contributions.
Longval began visiting northern New Mexico in 1988, after her daughter settled in Taos and gave birth to Longval's first grandchild. With the artist's annual visits to the area, the characteristics of the people and the ambiance of the landscape began to make their way into her paintings. Finally, in 2009, she made a permanent move to Taos.
"My move to Taos was to be with my daughter," says Longval. "I would have moved anywhere to be near her. Fortunately, she was living in this exquisite land of enchantment. I have found that both the tranquility and power of the natural environment here rejuvenate my soul. There is a profundity of the landscape that inspires me spiritually. It gives me a feeling of oneness with the earth. But because I am a figurative painter, it is the people of Taos that most inspire me - their stories and how they relate to each other, watching them at their work, observing their gestures. The 'majica,' the magic that I first learned as a child continues to be nurtured here in Taos. And it is this 'majica' of art that gives voice to the human spirit. Without art, this spirit that is Gloria Longval would have undoubtedly withered and died long ago."
When not in her studio, Longval enjoys leisure time in downtown Taos. An ideal day includes: morning coffee at World Cup (it's the closest to Cuban coffee and the baristas are so friendly); a stroll through Kit Carson Park with her dog, Penny; lunch from Cid's hot counter (try the tamales); a visit to Taos Art Museum; dinner at Sushi a la Hattori (the mackerel dinner is a favorite); and an evening film at Taos Center for the Arts, or a live performance by Working Class Theater.
For more information about the artist, visit www.glorialongval.com. or call for a private studio appointment - 575-751-7360.
By: Rima Ralff, the artist's daughter.
Photo credit: Rima Ralff