Mary L. R. Johnson, Political Activist, Poet, Artist
Walking briskly in the crisp air of a mountain town is a small, older woman wearing a big knitted hat. If you happen to catch up with her, Mary L.R. Johnson will share with you her beautiful smile as well as a courteous greeting. Then she will hurry along. Perhaps words of her latest poem are swirling in her head or she is considering her response to the latest political brouhaha. Then again, she may be on her way to meet friends at Doc Martin's Restaurant to enjoy a leisurely brunch peppered with lively conversation.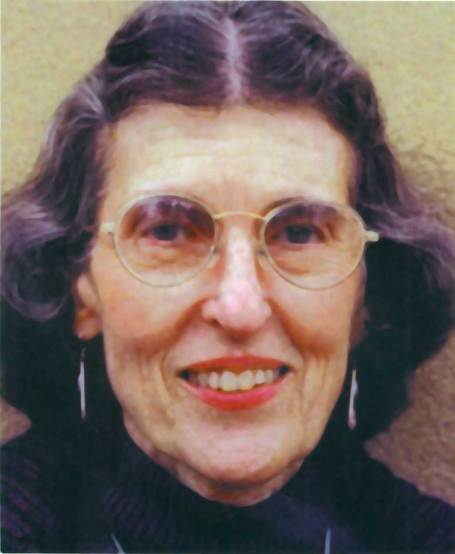 Born in 1919 in El Paso, Texas, Mary was one of eight rambunctious children. In summer, to escape the heat, the annual ritual of packing up an entire household from one location to another was enacted. The family, including servants, took the train to their summer home in Cloudcroft, New Mexico. There Mary explored the woods of fallen pine needles and chattering chipmunks. She began her lifelong observation of the natural world, something she later transferred into poetry and pen and ink drawings," to celebrate the beauty of a fragile world."
Estelle Therese Rosenfield, Mary's mother, believed all her children were exceptionally creative and it would be a loss for the world if they failed to develop their talents. Dramatic, temperamental, and caring, she became a stage and film actress in her later years. "She was a remarkable woman, her presence, and her influence an essential ingredient in my own life." Mary said.
In 1936, at the height of the depression, the family moved to Los Angeles. Mary studied art, but unable to ignore her family's financial straits, she enrolled in business school, excelling at typing and shorthand. Her first jobs were with WPA's Federal Music Project, and Warner's Bros. Studio. Still in her twenties, Mary joined the Jewish Youth Congress and the Los Angeles Jewish Youth Council. She became an executive secretary for high- powered union law firms in LA and San Francisco. Highly principled, Mary was at the vanguard for many years of the struggles and achievements of organized labor, civil liberties, and progressive causes. She says," People cannot simply believe what politicians say. We need to ask what they have done."
Mary fell in love with northern New Mexico on a hot June afternoon in 1953. She and a friend, on a break from their whirlwind city life were on their way to a guest ranch in San Cristobal belonging to Craig and Jenny Vincent. Great mountain ranges with snow, billowing thunderheads, intense blue sky and the ragged Rio Grande Gorge, convinced Mary. "This is where I want to live."
On a subsequent visit, Mary fell in love with and married Harold Johnson. Moving to Taos with 33 pairs of shoes, many with 3" heels, Mary swears "I had no problem navigating the potholes and unpaved roads." She felt living in a log cabin with no plumbing was much harder.
In 1984, after Harold's death, Mary, a prolific letter writer, started her business, The Letter Shop. Many Taos businesses sought out her impeccable skills at typing, dictation and editing. Mary recalls the elderly Mabel Dodge Lujan, still an imposing personality, dictating letters from her enormous bed. She wrote letters and read for those who were illiterate. Over decades, her thoughtful observations to the Taos News, savored by its readers, both enlightened and educated.
In the spring of 2004, news got out about the imminent closing of the downtown Taos Post Office. Retired by then, Mary said "If I wasn't so old I'd start a petition." But with equally spunky friends, she did. So began the remarkable crusade by the "Three Little Old Ladies" (so dubbed by Bill Whaley of the Horse Fly). With the help of John Rainer of Taos Pueblo, they soon had over 800 signatures. The invaluable social center of Taos-the Post Office- is still at its center.
Mary published two books of poetry, a collection of essays with her sister, Nancy Lund, and a memoir, "Before They Disappear." She volunteered as a teacher of poetry in both public and private schools. She also participated in the Taos Art Association and was in the forefront working for change at Plaza de Retiro.
At ninety-four years, Mary is a revered elder in the Taos community, and one of the last remaining links to its storied past. Many feel honored to be part of conversations with Mary, always filled with stimulated thinking, humorous perspective and razor sharp wit.
Mary feels because so many young women in Taos, are or wish to be involved in the creative arts, to be able to talk to other artists is a great advantage. "Stimulation from others, with who one can consult or get advice, is a valued asset seldom found in small communities."
Some of Mary's favorite places include: Doc Martins Restaurant at the Taos Inn, Moby Dickens Book Store in the John Dunn Shops and the Town of Taos Public Library.
By Kathleen Burg
Photo: Adam Gottstein