Donna LeFurgey, Architect, Sculptor and Outdoorswoman
Donna LeFurgey is an architectural sculptor who works in the most important medium most people are ever involved with—the spaces they live in, the places they call home.
Donna came to Taos to ski after eight years as a Park Ranger in Yosemite. "On Memorial Day, 1979, I arrived with a boyfriend, a cat, a pickup truck and trailer and a set of plans that I had drawn – my first. By the end of the summer, the 14" thick adobe walls were up, the roof on and the windows in."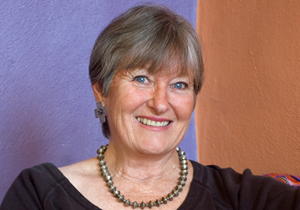 She and her husband and two Aussie Shepherd-Border Collie dogs still live in that solar adobe off Millicent Rogers Road. Over the last 30 years she has expanded it into a compound with two detached studios, a "chicken complex" and a garden. At the center of the compound is a white birch. "I got it through the mail as an 18" bare-root sapling. Now it's over 40 feet tall."
Her experiences in building her own home blossomed into her passion and then into a new-found career. "I designed several of the first Habitat for Humanity homes. I was a founding Habitat board member, and I started and managed the local Adopt a Highway program."
Donna's innate talents, ability to clearly visualize the end result and drive to succeed are behind her success. She adapted the skills she began to acquire as early as her college days where she paid for her education by working in nearby offices then later as an office manager for a small business in Taos during the 80's. "My architecture studies have all been drafting related: a hand drafting class at the former Northern New Mexico Community College and then CAD classes at UNM Taos. I worked in real estate for 13 years, seeing clients react to various design features. I worked construction for several years building spec homes and could see where the designs needed improving. I think a lot of my ability is the ability to 'see' spatially. I can visualize a room or a roof line before I put it on paper. I still draw my plans with pencil at a drafting table."
For Donna, designing a home and fitting it to a piece of land requires not only knowledge of materials and techniques: "It also demands that you communicate well with your clients, even doing a little therapy at times. Building is such an emotionally charged endeavor. The clients have a dream and it may be unworkable or unaffordable. I often see two people with ideas about their 'dream home' that conflict." The sculpting also includes the harmonization of hearts and minds.
In addition to her custom home projects, she has also designed the offices of the Northern New Mexico Birthing Center and Vista Taos Renewal Center, El Rincon Bed and Breakfast and an addition to the Taos Pueblo fire station.
She says, "I am proud to have been a self-employed business owner who has managed to stay in business for 30 years. My contribution in Taos is to have designed beautiful and energy efficient homes that grace the landscape. I think of them as large sculptures that someone gets to live in."
Recently, Donna was on the board and active in the field for Taos Search and Rescue.
What is it about Taos that draws creative and independent individuals? "I feel like Taos supports individuality, both in women and men. There isn't a lot of judgment here. People are rewarded for who they are and what they do, not what they have. It has often been difficult being a woman working at man's work. The construction industry is not the easiest place for a woman. I've laid brick floors, built fireplaces and been on framing crews. Because of my hands-on knowledge of construction practices -- I work hard to keep up with new technology -- and tenacity, I have found a niche."
As a former Yosemite National Park Ranger, and the only woman ever to work as horseback Wilderness Ranger in the Carson National Forest, Donna's love of nature endures; she has hiked with her dogs and friends all over Taos County.
"Visitors can't miss Taos Ski Valley, of course. On the road up there, hike the Yerba Buena and Italianos Trails. I love the Garrapata Canyon Trail down to the Rio Grande, the West Rim Trail just south of the Gorge Bridge, and State Road 570 south of Taos in Llano Quemado, the old roadbed part along the Rio Pueblo Gorge down to the Rio Grande. My husband and I haunt Elevation Coffeehouse, Orlando's Restaurant and the Taos Community Auditorium."
As to her advice to those seeking to re-envision their lives, Donna is a firm believer in working within the rules of voluntary simplicity: "The biggest thing I did to get started in Taos was to build my house myself with out-of-pocket funds; starting small and adding on when money allowed. Without a mortgage, lots of things are possible. It was very liberating; it freed me to start a new business, travel and have more free time. I continue to keep my life in Taos simple and debt free. I don't have a fancy house, I drive an old car and raise as many of my own vegetables and eggs as possible. It is very empowering."
Donna LeFurgey has over 100 homes and commercial structures standing in the Town of Taos, the county and Missouri. Her website is www.taosdesignhouse.com.