Kim Ann Treiber-Thompson, Musician, Photographer, and Community Advocate
There is something unexplainable about Taos. The Pueblo People must have felt it when they made this valley their home. Others have been drawn here, with or without cause. I like to say that if you're fortunate, Taos will take you in, add some spit, chew you up.... and if you're lucky, swallow you deep into her belly.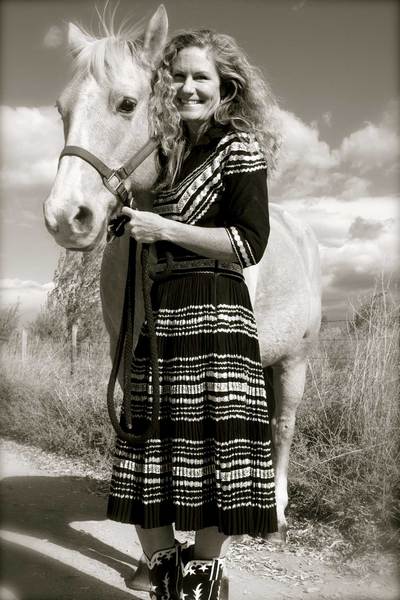 Kim Ann Treiber-Thompson considers herself a socially-minded artist, and a community member, and she feels it's imperative to be just that: A member of a community of different kinds of folks, interdependent upon one another. She believes that what she has contributed to Taos is a small token of her gratitude for being accepted here. Kim feels embraced and supported, which has enabled so many of her dreams to become reality. "I see big pictures, and for some reason, I have strength in bringing people together to reach a goal. It only works as a group effort. I would be unable to do all this alone. I would say I am a facilitator of sorts."
Kim credits her dad, who brought her and her brother to Taos when she was a young girl. Kim reminisces, "I took pictures with my old-school Kodak Instamatic camera. My first trip here, I took a picture of a crumbling-down adobe in Arroyo Seco and captioned it in my photo album: "my future home." We visited Taos almost every year until I moved here in 1983. Taos is my home, and it has always felt that way. I have a sense of belonging here. When one has that connection it is a great gift and should be treated as thus. That inspires me to invest in this community, and in its well being."
One of Kim's great inspirations is her paternal grandmother, Madeline, from the mountains of Germany. She got on a boat at age nineteen with her little sister, crossed a huge ocean and landed in New York. Kim recalls, "She had no connections to anyone there in America. She found her way to a wealthy Jewish family and became their maid. This was at a time of great craziness in Europe. They treated her like family, gave her a "store bought" dress, her first ever, and treated her with dignity. I find this kind of compassion and kindness compelling. I find her courage and hard work inspiring."
Kim shares that she is inspired when she sees people being kind to themselves, each other, animals, and the land. "Everyone I know here is remarkable in their own way, THAT is what makes Taos special."
In her almost 30 years in Taos she has produced and acted in many plays, mostly on the TCA stage, including playing Ophelia in Hamlet, several Sam Shepard plays, and a production of "Hair."
She played bass in the local legendary rock band, Bohiems, and now runs her own band, Kim and the Caballeros (a country-western dance band) and plays bass in Stray Ravens (a rock band). She is also a member of the folk trio, Les Nouveau Antiquarians. In her early days in Taos, she was a member of the bands Water Tribe, HagStones, Fear No Art, Burning Joan, and sung with the Taos Gospel Choir.
Currently, she is also a photographer, showing in TurnStyle Gallery and Caffe Renato, and has a photo card business.
All along, she has been an avid horsewoman and cowgirl, riding as often as possible in the mountains around Taos. Her favorite places to ride are on the rift trail by the Rio Grande Gorge, the Velarde river bed, Amole Canyon, and "off trail", too. Kim adds," Being on my horse in the great outdoors is my personal therapy, along with songwriting. Almost every aspect of my life is social, so getting on my horse and being quiet is a time to rejuvenate, feed my soul and give me energy to reenter our community for the tasks at hand."
Concurrent with her early artistic endeavors, she worked at Casa de Corazon Residential Treatment Center for girls from the time it opened until 1998, at which time she co-founded and co-directed the DreamTree Project, Inc.
DreamTree Project, Inc. a non-profit organization, is dedicated to the promotion of the healing of the spirit, body and mind in young people and their families, so as to build a healthy community where they are able to envision and pursue their dreams. The DreamTree Project manages and operates a transitional housing facility and youth shelter. It also serves as the location for comprehensive support services for youth, including a life skills program for youth ages 12-24, and their families. DreamTree's motto is Courage: what it takes!
A few years ago, Kim decided to devote more of her time to music and photography, moving to the Board of Directors of the DreamTree Project. She currently works part time in Social Services at the Taos Living Center. Kim is enjoying the transition from teens to the elderly. She feels this parallels her transitions and growth with her own aging process.
She would encourage new comers to Taos to get in touch with their passion, and then find an organization that they can feel connected to, and volunteer. Kim feels strongly about community involvement, stating, "If you choose to live in this town, and you manage to eek out a living, it is only natural to give what you can. That doesn't necessarily mean cash. It can be as simple as opening a door for someone at the post office or engaging with the check-out person at Cid's."
Kim's philosophy: Live life artistically, with a little less judgement and a whole lot of curiosity.
Art and social consciousness have always gone hand in hand. That is how I strive to live my life. If I can connect with someone through song, or through "social service" of some sort, then I feel good. I used to have 3 jobs in Taos out of necessity, now I have 3 jobs because I've come to realize I like the diversity in my own life. Sure, I'd love to make more money with my music, but this lifestyle suits me just fine.
I have had plenty of times when life has pummeled me and I have relied on my family and friends to come to my aid. I have had my share of successes and my family and friends have shown up to support me. I only hope to give this in return. That is community: the reciprocation and elevation of each other. It makes me want to be a better human.
Kim feels that some women, past and present, are drawn to Taos because they can truly be themselves, with no judgment. Smiling, Kim says, "We are not the American norm! As long as you are not hurting another, you can pretty much do whatever you want here, dress how you want, try new things, explore dreams, find yourself. Taos has a way of "peeling the onion" of a person and getting to the core being. Sometimes this can be a very painful process, but the end result can be exhilarating. It's about striving for grace: how one moves through life inhaling all aspects of experience, emotions, challenges, triumphs... exhaling kindness, beauty and integrity towards self and others."
Kim's idea of the perfect day? "Wake up, feed horses and shovel manure, do a little yoga, ride with my horse buddies in the backcountry, help a friend with her stalled truck, connect with my kids, feed the donkey with my grandson, get to the Taos Inn and play some good ol' twangy country music, come home, plop on the couch with my husband and watch Jon Stewart."
Some of Kim's favorite dining moments are at Lambert's, El Meze or Hattori Sushi for dinner, Pizanos or Orlando's for lunch, Gutiz or the Taos Diner for breakfast, though she is careful to add, "for a town this size, it's amazing that we have so many wonderful places to eat, such a wide variety of choices for any given mood."
Her future plans include continuing to follow her heart, listening to her gut, participating in community in whatever ways are calling her, riding, singing, photography, gardening, and living life to the fullest.
Nominated by Olga Torres-Reid
Photo of Kim and her horse Amigo © Jett Ulaner Sarachek 2012