Claire Haye, Artist and Jewelry Designer
Claire Haye's life and work are marked by her independence, listening to her own muse and a willful determination to express her own vision. Her early exposure to dance, theater and art influence all of her work. Her mother, Beatrice Von Stronstorff, was a modern dancer in New York; one cousin, Robert Fizdale, was a famous pianist; her aunt, Viola Spolin, and another cousin, Paul Sills, were pioneers of improvisation and the force behind the founding of Second City in Chicago.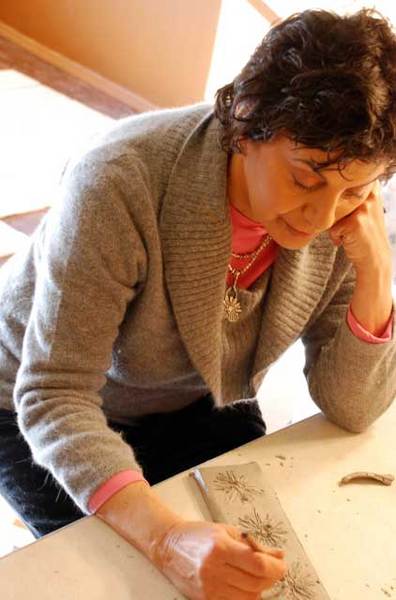 Claire moved to Taos three decades ago from Chicago with a husband suffering from heart problems and two young daughters in tow. Settling into her new life, her world was her family and her art. Her father, while visiting her soon after their move, observed, "Here in Taos, you are more you." The pure air, the dramatic landscape, the big river and mysterious rhythm underlying it all intensified Claire's need for self expression while giving her the environment that allowed her to blossom as an artist.
During her first decade in Taos, 1978-1988, Claire spent much of her energy working in clay and eventually building dramatic figurative ceramic sculptures up to seven feet tall. These sculptures were exhibited nationally, included in museum shows, won many prizes and are part of important collections.
The challenges of shipping, installing and finding collectors for these pieces made Claire decide to cast her sculptures in bronze and create large welded steel pieces.
In the breakthrough years of the late eighties, Claire made an informed choice to think of herself as an "Artist" working in all media, rather than as an artist working only in clay. Painting, printmaking and exploration of jewelry design as expressive mediums were all flowing out of her studio and finding an audience locally and nationally.
By the early nineties, the jewelry already had an avid collector base. The acceptance of her work on the Shopping Channel, QVC, catapulted her jewelry to a larger national audience, giving her unexpected fame. By 1997 Claire had the financial base she needed to open her own Claireworks Gallery and Sculpture Garden in Arroyo Seco.
As for Claire Haye's life as a woman living in Taos during the past three decades, she has matured, and watched her children grow: both daughters now have their own families living in New Mexico and Claire delights in being a grandmother.
The death of her husband in 2001 sadly changed her personal life yet Claire has managed to stay young and vital through her creativity and experimentation with her art.
These days, Claire often walks the Hondo-Seco road to her studio, looking at clouds and mountains sharp against the turquoise sky. Taking an occasional break from her art, she attends yoga classes at Shree Yoga, swims at the Youth and Family Center, skis at Taos Ski Valley, writes poetry or thinks about her work while drinking coffee at Elevation Coffee in El Prado.
This year Claire will introduce the ceramic murals she has been working on since returning from a visit to Spain last spring. There will be an outdoor installation of a large mural, an exhibit of smaller ceramic murals, and a celebration of 15 years at ClaireWorks Gallery in Arroyo Seco on August 11, 2012.
To view Claire's work on line go to www.claireworks.com. Visit Claireworks Gallery and Sculpture Garden in the charming mountain village of Arroyo Seco on the way to the Taos Ski Valley--open every day.