Kimberly Webber, Painter
Taos is my home, the land nurtures my creative vision and the community here inspires me. I am blessed with an incredible circle of friends and colleagues from all three facets of Taos' tri-cultural community. The traditional agricultural and spiritual ties with the land are what speak most deeply to my soul. The connection to the lifeblood of the acequias and the food and culture that result from the water are ancient, simple and profound. I love the water, the sky, the mountains, the quietude and the immense creative spirit of the people of Taos. I am so grateful to live and paint here.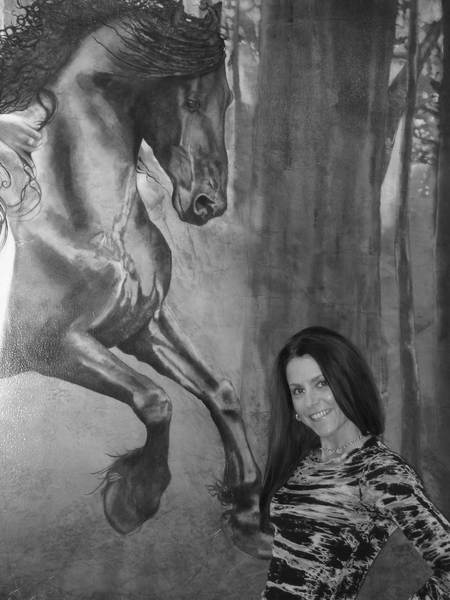 Kimberly's grandmother gifted her with her first paints at the age of 3. She went on to study art formally, exhibiting work as a teenager. In 1988 Kimberly was selected for an Ohio Governor's Award of Excellence at 18 and received a scholarship to study painting at Ohio Wesleyan University. While at Wesleyan she studied in Florence, Italy and in New York City. Her paintings were political, intense and combined a variety of media including film and installations. After graduating Magna Cum Laude with a BFA in Painting, Kimberly immersed herself in the wilderness of Northern California, returning to a deeper inner knowing centered in the land. She studied with a female shaman while living simply and close to the earth in the redwood forest. When asked how she arrived in Taos she said that in late 1992/1993 she was drawn here, "I had never been to Taos, but was undeniably being called to this land for reasons that eluded my logical mind. I packed up my tipi in a pickup truck and drove here. Within 24 hours of arriving, the tipi was set up and I had worked out a trade arrangement with Rick and Terry Klein at New Buffalo for my tipi space in Hondo and studio space on Lama Mountain. The wide open vistas, huge sky and pristine wilderness affected me immediately and permanently."
Over the past 19 years, Kimberly has honed her technique and vision. She is a precise and intricate painter; her style and approach to painting the figure is unique. Archetypes are portrayed rather than striving for a simple likeness or portraiture. There is an openness to each character, a space for the viewer to step into, a portal, suspended in the realm of becoming. Interpretive Symbology sets a narrative deep within each oil painting. Each person sees something different. Classical drawing and painting techniques and a fusion of Eastern and Western traditions influence her Symbolist Pre-Raphaelite style. Kimberly Webber is a singular vision with an art form quite unlike any other in the United States. Her work has European, Asian and Egyptian qualities that create mythical and enchanting atmospheres. Her life size figures are exhibited regularly at her Taos gallery, Old World Fine Art, on Kit Carson Road, attracting national and international clientele and connecting people to Taos. Her statement is in transparent, iridescent oil glazes. Her brush speaks in many languages and her color consists of hand-ground pigments from the earth and perhaps, distant stars. Painter, shaman, alchemist, priestess …. Remarkable.
Some of Kimberly's favorite places around Taos include the many wild forests and hiking trails, including Wheeler Peak, Ojo Caliente Mineral Springs, The Love Apple and World Cup Cafe. To see Kimberly's painting images online please visit www.oldworldfineartgallery.com or www.kimberlywebber.com.
--by KC Tebbutt