Jina Brenneman, Curator at Harwood Museum of Art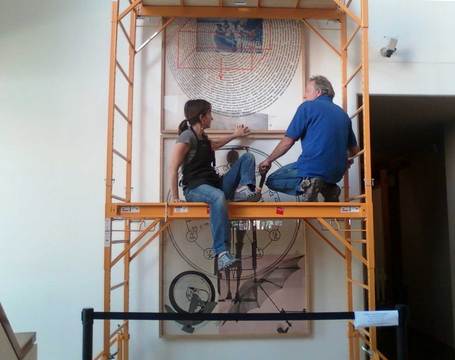 Jina Brenneman, Curator of Collections and Exhibitions at the Harwood Museum of Art in Taos, relishes both the challenges and opportunities of working in a small, regional museum. Since coming to the Harwood in 2008, Jina has recruited a small, but remarkably talented and energetic staff. Their exhibits, multi-media, multi-cultural and multi-dimensional in scope, are attracting an ever-widening and enthusiastic audience as rising Harwood attendance records testify.
The Harwood's recent exhibit, "Black Mountain College and New Mexico," is an excellent example of how Jina and her team combine vision, curiosity and genuine affection for the artists involved. Jina describes her creative process over a two-year period as one in which she made contact with the artists, family members, collectors, students, and institutions to do research and gather photographs, works of art, correspondence and other ephemera. As her team wove these materials together, the exhibit became "a memorial to the lives of these extraordinary human beings who, together with their contemporaries at Black Mountain College, changed the culture of our nation in ways we are yet to fully understand."
Jina's experience with regional cultural centers began at the Glenwood Springs Center for the Arts in Colorado, where she taught ceramics and was involved in the day-to-day operation of the center. Moving to Palmer Lake, Colorado, in 1997, she realized that the Tri-Lakes area needed a cultural center. She saw an abandoned car dealership building with ample room for artists to work, convinced donors to help her buy the building and began offering classes and artist residencies all within a very short time. For the next three years, she served not only as founder, but also as Executive Director of the center.
Jina might have stayed in Palmer Lake for much longer, but as a single mom with four children to support, she needed more income. In 2000 she became Curator of Visual Arts at the Sangre de Cristo Arts Center in Pueblo, Colorado, where she spent eight remarkable years. Reviewers from Pueblo to Denver repeatedly praised her shows for their innovation and originality, one writer for The Denver Post even noted her ability to lure visitors from as far as Denver with her "ambitious and imaginative" work.
Jina credits her experience as the daughter of Mennonite missionaries with her appreciation of multi-cultural perspectives. Nigeria, Costa Rica and Mexico were all home to her family during her childhood. While her early life was full of many experiences, it did not include art. Only when she entered college did she sink her hands into a mound of clay and begin to feel the freedom and "redemption" that art can bring. Though she went on to pursue an academic degree in English and Spanish and to study art history and Spanish in Barcelona and Saltillo, she knew that art would be a driving force in her life.
Today, Jina credits her academic studies in art history and literature as providing a firm foundation for her curatorial work. She also recognizes, however, that her own experience as an artist provides an all-important personal connection to other artists.
As a visual learner growing up in a society that values scores on academic tests above all else, Jina often felt out of step with the mainstream educational system. As a result, she demonstrates strong empathy for other visual learners. When asked to name those who inspire her, she includes, among others, Rena Rosequist, Cynthia Homire and Barbara Harmon, all artists in the Black Mountain exhibit. Jina praises them as women who have followed their passion for their art, persevering in spite of adversity. "Nothing stops a remarkable person."
She also admires similar strengths in her team, Deborah Vincent, Becky Bowen, and Richard Tobin, who approach the process of curating with commitment, energy, enthusiasm and selfless dedication. Together with Jina, they have full responsibility, from conception to completion, for the Harwood's art exhibitions and collections, relying on their imagination and resourcefulness to work magic with the limited resources typical of a small regional museum. She notes Richard Tobin, the newest member of her team, enhances the team immeasurably with his wise mentoring, advocacy and keen sense of humor.
Last, but far from least, Jina feels her greatest accomplishment has been raising four beautiful and thoughtful children, who have grown up by her side as she has pursued her career.
When not at the Harwood, Jina creates her own art in porcelain ceramics and oil pastels, reads fiction, dreams to recharge her imagination and makes herself stay at home, even when she would often rather be back at work. To see photos and descriptions of Jina's innovative curatorial talent, visit the Harwood Museum of Art.
By Carol Farmer, 2012
Photo of Jina Brenneman and Nicholas Oppenheimer installing works by Robert Rauschenberg by Suzanne Mayer, © 2012