Corina Aurora Santistevan, Educator and Historian
My father once stood with me in one of the many sites where you can see Taos completely surrounded by mountains. Pointing to Pueblo Peak, he said "Esa es la Madre con sus brazos destendidos abrasando todo el valle." What a sense of security that gave me—that Taos Peak was the Mother Mountain embracing the entire valley with outstretched arms.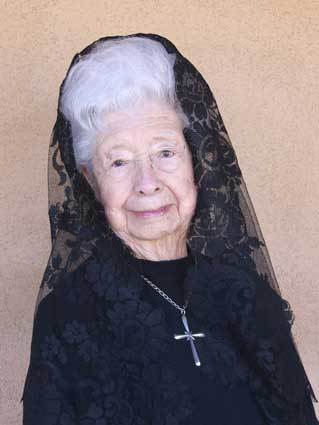 A seventh-generation New Mexican and an aficionado of history, Corina Aurora Santistevan considers herself most fortunate to have been born a Taoseña and to have had a father who opened her eyes to the wonders of nature inherent in the "blessed rich valley of Taos." She owns and has lived much of her life in the Santistevan ancestral home, an adobe with all the trappings of the centuries-old Hispanic culture—an enclosed placita (courtyard) with a shallow stone-lined well, an adobe horno (oven) and plants like the rosa de castilla, a yellow rose bush supposedly brought to Taos via Mexico from Spain.

For nearly 50 years Corina devoted her time to learning and teaching. In the latter 1930s as part of the National Youth Administration, Corina worked under Roberta Robey, founder of the Villagra Bookshop in Santa Fe, who was the librarian at the Harwood Foundation in Taos. With Robey's help, she established and ran a branch library in nearby Ranchos de Taos. Corina taught for fifteen years at a rural one-room school in Cordillera near her ancestral home. (She is still known to generations of her students as their beloved "Miss Santistevan.") The lessons learned there led to pioneering work in language arts in California, where Corina helped develop and place the learning of languages in the elementary school curriculum.

In the 1960s after earning her Master's degree at San Francisco State College, and further study at Stanford, she began to teach in Ca where she taught young children and held seminars for aspiring teachers in the Bay Area. She recognized nationally in 1972 in Outstanding Teachers in America. Her expertise in the classroom once reached an international audience when she traveled to Geneva, Switzerland to "teach teachers how to teach reading" for a U.S. government-sponsored program for English-language instructors in foreign countries. Corina returned to Taos in 1979, and after conducting a year's program on Human Relations in the School and another on parental involvement, she ended her career at the Taos Municipal Schools in 1982.

History runs through Corina's life as an "unending silver chain." As a result of her passion for the field, Corina became a charter member of the Taos County Historical Society. She shared her interest with and found inspiration in people like her historian and amateur archeologist friend Helen Greene Blumenschein and like Jack Boyer who secured a handful of historic buildings—including the Hacienda de los Martinez, the E. L. Blumenschein Home, and the Kit Carson Home—to represent and preserve the cultures of the people who established Taos. Corina worked on the history of the renowned San Francisco de Asis church when she served as its archivist. Her efforts culminated in Centuries of Hands: An Architectural History of St. Francis of .Assisi Church (1986, co-authored with architect Van Dorn Hooker). She also spearheaded the repair of the one-room adobe oratorio (oratory, a private place of prayer) and the restoration of the surrounding Peñas Negras Cemetery to its traditional status as a campo santo (holy field). In recognition of her contributions to these and many other projects, Corina received numerous awards, including the New Mexico Cultural Properties Commission and Historic Preservation Division for her efforts to preserve and interpret the history of the Taos Valley. Her most ambitious undertaking, as project director and oversight historian for a book on Taos history, was recently submitted for publication.

Corina believes that while fate or chance may bring adventurous women to Taos, what holds them to the place are creative forces that go back centuries, creative forces that have been expressed in the beauty of traditional Taos Rio Grande blankets or colcha embroideries or retablos (retables) as well as micaceous clay pottery and deerskin moccasins. That, and the sheer beauty of the Taos Valley.

Corina Santistevan's favorite sites and sights: within the walls of the San Francisco de Asis church in Ranchos de Taos; the ridge road beginning on Highway 68 and driving west to El Camino del Medio (Middle Road) overlooking the fields of green bordered by wild plum bushes; the Rio Grande Gorge from the old Taos Road or "to come from the south and catch that sight of the Rio Grand Gorge and to know the fury and the splendor of the forces of nature in this our home land."

Advice from Corina A. Santistevan: I would urge strongly that people engage early on in the preservation of family history; of historic sites as they become endangered; of oral and written material—and she also advices for people not to take things that seem unimportant for granted. As time passes they are the history for the future.
By Elizabeth Cunningham, 2011
Blog host, "Mabel Dodge Luhan and the Remarkable Women of Taos"
Photograph by Robbie Steinbach, 2011