Lyla Johnston and Pat McCabe
Writers, Educators, Global Community Activists
As basic as it sounds, it seems we, humanity, by force and by default in many cases, have forgotten to make our priority: Life. And even if we were to shift our time and attention to making Life our priority, do we actually know what makes and sustains Life? If sustainability is the highest and most sought after science on the planet, who should we be talking to? Who are the premiere scientists of this study? It would be the peoples who have lived in one place over an extended period of time, say a thousand years or more, in some degree of lasting functionality. – Pat McCabe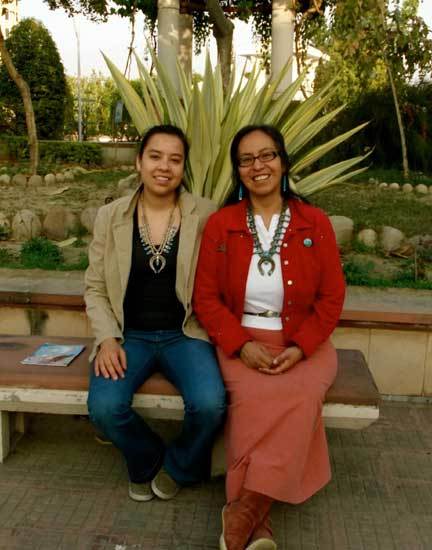 Born in Gallup, New Mexico, Pat McCabe draws inspiration from her mother. Calling her "the root of the root," Pat writes of her mother: "You are goodness and simplicity, faith and selflessness, strength in the face of all odds and humor, always humor." Pat's early education occurred in a variety of schools including Terman Junior High at the Stanford University Campus in Palo Alto and Chinle Junior High, Arizona, Navajo Nation. She spent a year abroad in Rennes, France through Phillips Exeter Academy. Her Better Chance, Inc. full scholarship there was the first of many awards she has received throughout her life.
With a degree in French, Russian, English and Creative Writing, it's no wonder Pat excels as a communicator. In the 1980s she was a contributing writer to the Santa Fe Reporter, The Taos News and the Kiva News in Taos. She worked as a Publicity Writer for Taos Pueblo Sculptor John Suazo and Potowatamie artist Woody Crumbo, Sr.; later she served as PR and Outreach Director for Amigos Bravos, Friends of Wild Rivers, a statewide river protection and advocacy organization. From2001-2002 Pat used her writing skills to facilitate a Creative Writing Group at the native women's New Moon Lodge Recovery Center for Eight Northern Pueblos. She has performed both prose and poetry. Over the last two decades venues have included the Taos Poetry Circus/World Poetry Bout Association in Taos, the Kimo Theater in Albuquerque, Virginia Tech and San Francisco.
Pat has shared her talent to benefit various groups. In 1996 she read her poetry Daughters of Church Rock to raise funds for the Adopt an Elder program which targeted Pine Ridge Sioux and Taos Pueblo people. Together with her daughter, Lyla Johnston, and poets Erin Badhand and Coral Bernal, Pat participated in the Indigenous Women's Poetry Reading at the World Poetry Bout in 2004. Beginning in 2005 Pat was an invited participant in the Language of the Spirit Dialogues a meeting between western scientists and indigenous knowledge keepers. These gatherings led her in a new direction. As Pat tells it: "Since roughly 2006, I have mysteriously been given the honor of traveling the world to different gatherings where people concern themselves with questions of sustainability."
Thus began her travels as a participant in gatherings of Indigenous People. Among other places, she presented at the Quest for Global Healing in Bali, Indonesia (2006 & 2007)and at the Indigenous Peoples prayer gathering in Cusco, Machu Picchu and Pisac in Peru (2011 In 2012 Dr. Ariaratne, Winner of the Gandhi Peace Prize, , invited Pat to Sarvodya, Sri Lanka, where she witnessed his work in action. (2012). Through the Pachamama Alliance Pat and other social justice leaders from the United States met with the Achuar people of Ecuador in 2011. This year she also presented on Women's Ceremony and dialogued on Indigenous Peoples at the Raices Gathering in Chile.
Pat's personal journey reconnects her with her lineage and the meaning of being born a Native American woman at this time. Her perspective has afforded her unique insight into cultural patterns of Indigenous peoples in the U.S. and in other nations. Along with her education, her personal experience has given her a broad perspective on how these patterns relate to Global patterns as well. As a Diné woman (her spiritual name translates as Woman Stands Shining), Pat's stated goal is:
To practice and inquire of Hozho (translated roughly as the practice of sustainability) as my People have done, as many Peoples have done, as humanity has done, for the rest of my Life. I intend to propose to the young People, to the Women's Nation, to the Men's Nation wherever I am, that this Life is a profound Gift. Its sustaining currencies are Beauty, Joy, Reverence and Community. All that causes Life to be comes from the Earth and in abundance. Because this is true, over time, we have learned beautiful and special ways to love Her, honor Her and be in relationship with Her. I am a baby in these ways but what I have learned in the past twenty years I will share with you. These ways are what make our communities strong. And Joyful.
Echoing her mother's words, Lyla McCabe, states her own life direction:
I have grown into what the Creator crafted me to be--a crafter myself, of words and of community. I have used my words to give audiences a moment of faith, fearlessness and hope. A moment is all they need to transform themselves from within and step into the streets, into the garden, into the understanding that we are the stuff of legend. I have simply accomplished coming into my inherent gifts, and thank God it is so.
Raised in Llano Quemado six miles south of Taos, Lyla Johnston is a Diné (Navajo) poet, activist, musician and anthropologist. She credits poet and part-time professor Anne MacNaughton, who co-founded the Taos Poetry Circus in 1982, with her training as a poet. And Coral Dawn Bernal of Taos Pueblo brought her into the world of Spoken Word Poetry: "Ms. Bernal taught me the importance that beauty has in our lives and how we can make this beauty readily available to everyone through our words." Lyla's tribal name, Tate Uha Omani, means "She Carries the Wind." It reminds her of her purpose as a poet, namely to give voice to her thoughts, to let the wind carry her words. Lyla has won numerous awards for her poems, and served as director of Stanford University's Spoken Word Collective. At Stanford she also got her degree in Environmental Anthropology. Wishing to bring an indigenous perspective to the field, her research has taken her on many journeys. Lyla traveled to Peru to study menstrual taboos and to Chile to work with the Mapuche people. Her most recent project involves working with the Winnemem Wintu indigenous society to assess the cultural impact of the proposed Shasta Dam water level raise and enlargement of its reservoir. Lyla's research revealed that with the proposed dam raise, over thirty of their sacred and historical sites that their culture depends on would be flooded. Lyla is championing the people's claim to their sacred land under the United Nations Declaration of the Rights of Indigenous Peoples.
At her young age, Lyla is no stranger to protecting the rights of Indigenous People. Both she and her mother helped in 2007 when Diné grandmothers and teenagers protested the building of a third power plant in the Desert Rock area near the Four Corners. In 2011 Lyla responded to another crisis. While working with the Winnemem Wintu she received news of four teenage suicides in Taos. Lyla went into action. She created and helped organize the First Annual Taos Celebration of the Young on Labor Day weekend 2011. The four-day ceremony and celebration provided young people of all ages (0-30 years old) with "myriad physical, intellectual and spiritual gifts." This included "creative and diverse ways of praying for the young…from running to chanting to dancing to attending Lakota sweat lodge." In response to another rash of youth tragedies, Lyla organized a second Labor Day event this year renamed the Regeneration Festival. Her mother Pat McCabe, who received the 2003 Outstanding Contribution Award from Americorps' Rocky Mountain Youth Corps, helped organize both events.
Lyla's response to such crises comes from a quiet place within:
Once I spent two days praying inside of a pitch black pit in the earth with nothing to eat or drink. I was praying for an answer to how I should spend my time. I was told the following: "Spend your time telling everyone the beautiful news that we are all on the same side."
From that perspective, her path became clear. Lyla's life goal is to facilitate constructive communication between divided peoples. One way she does that is by following her mother's lead: "Just get quiet. Take a look. You'll see. You'll hear. You'll feel. And then… you're gonna sing."
By Elizabeth Cunningham
Asked to name favorite Taos sights and sites, Pat McCabe replied: "All waterways. I especially love the hot springs in the Rio Grande gorge. Elliott Barker Lake. La Vinateria. Ponce de Leon Springs. At the confluence of the Rio Pueblo and the Rio Grande way up high on the cliffs in the wind. The drive up from the west side of the Taos Junction Bridge. And… oddly…the Alley Cantina for dancing."
Lyla Johnston revels in "the chamisa, the sagebrush, the junipers, the pines, the arroyos, the hot springs, the rose quartz, the horses, the orchards, the pottery shards..." Her favorite places include The World Cup, the lava corridors of Arroyo Hondo and the ice-cold waters of the Rio Grande when you need a quick winter dip. She adds: "The beautiful crust of the earth has sung to me and held me close."