Cristina Masoliver, Puppeteer and artistic Director
I never planned on becoming a professional puppeteer. At age 49, I look back and realize that puppetry is, has been, and will continue to be my passion, my work and inspiration. Puppetry is the medium through which my imagination and creative self communicates and meets with others and the world around me.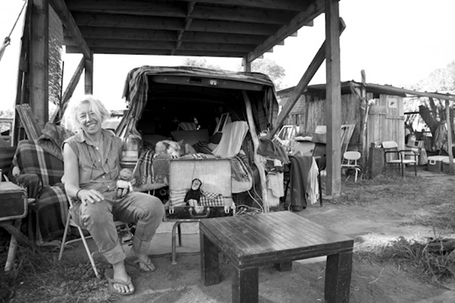 Cristina Masoliver is a timeless character, strong and beautiful. She is an artist deep in her soul, her work is not self-centered instead it is created to give back to those around her – young and old, of all different backgrounds and abilities. She is perhaps the most authentic artist working in New Mexico. Her gifts are unique and simple: beautifully constructed puppets—each with a life and story that percolates for years until the little beings are formed and ready to go onstage. Her talents extend as well to guiding and directing human actors in her ArcTisTics troupe whose Taos annual performances also delight audiences.
Born in Barcelona, Spain, Cristina Masoliver came to Taos by accident. She explains: "In 1987 after extensive travelling throughout Asia I came to visit a woman friend that I had met in Tibet. I never had a desire to visit the USA but I was invited here so I came directly to Taos. It was an unexpected surprise to find such unique and unusual place in the US. I fell in love with the wide-open spaces, the diversity of cultures, the slow pace (back then) and the community of artists living here."
Twenty years ago Masoliver started Puppet Theatre los Titiriteros which became a nonprofit in 1997. Since then, the Puppet Theatre has performed marionettes in schools, museums, libraries, senior centers, farmers markets, trailer parks and community centers to diverse audiences in rural northern New Mexico. Through her marionettes, Maurice, Adelina, Paco & Lola and others Cristina brings magical rapture to her audience, both young and old – and all ages in-between.
Prior to this, in the nineties Cristina was instrumental in the revival of Gustav Baumann's marionette theater and its plays, which she directed and performed at the Museum of New Mexico's Auditorium in Santa Fe. She also helped build Baumann's marionette replicas, which are housed at the museum and played during the Christmas Holidays.
Now after performing for the children and grandchildren of her earliest audiences, she reflects: "Perhaps my biggest accomplishment though, is that after all the years performing with string marionettes I have reached a place where I can safely say that I am a good puppeteer, in other words I can acknowledge the value of my work. It has been a long journey of learning and I look forward to continuing to grow and learn about this unique and rare art discipline."
In 2004 Cristina founded ArcTisTics, a collaboration among artists and adults with and without developmental disabilities. Under Cristina's patient and supportive leadership, actors build skills and hone their craft. They work hard to portray her dynamic vision. Rehearsals culminate in an annual performance—one of the best loved and well attended theatrical performances in Taos.
All of Cristina's efforts originate from a place of love deep in her heart – a testament to her amazing personal character. In 2008 Christina was honored by the Taos New as a local hero for her work with Los Titiriteros and ArcTisTics. In 2009, the Town of Taos officially recognized the Puppet Theatre los Titiriteros for its contribution to the community. Cristina receives another form of recognition from annual support for her outreach programs comes from state, federal, private foundations and individuals.
Cristina's core goal of reaching geographically and socially underserved people places her squarely in the age-old tradition of puppetry. Throughout history in all parts of the world, beginning with shadow puppets in Asia and ancient Greek theater, puppets have been used to teach, entertain, give voice to the imagination, and to mirror society back to itself. Puppets performed for all kinds of people, from Kings and Queens to merchants and farmers. They played in palaces and churches, at festivals and trade fairs, in the town squares and on the streets. Anywhere that people gathered, there were the puppets. Small troupes of puppeteers traveled to remote areas. Aimed at adult audiences, they spread the news and told the truth. No wonder puppeteers were among the first people targeted for Nazi death camps in Europe.
A modern-day puppeteer from this lineage, Cristina dedication to her art is epitomized through Teatro Vagabundo, a mobile puppet theatre initiated in 2009. She retrofitted her white Toyota Tercel with adapted suspension to handle rough terrain. During the winter months, she travels in this vehicle, emblazed with the signature TEATRO VAGABUNDO, to remote areas of the Mexican Baja California Peninsula. Carrying all her food, water, gas and other supplies, Cristina crisscrosses rutted roads from coastline to mountains. Her dog Basco is her co-pilot. Her travelling puppet theater reaches families and farmers in far-flung villages and ranchos as well as teachers and children in even more remote boarding schools. As Cristina explains: "I am inspired by people that live simply, by cultures that are in touch with the earth and engage in the tasks of daily living and survival. I believe that one becomes remarkable without thinking or knowing it. It is the passion and love for life, the commitment to their work, the honesty, truthfulness and inspiration that makes them unique and inspire others."
This past summer she saved money to support Teatro Vagabundo by renting out her house in Taos and moving into her yard. She slept in her Toyota and camped out in her beautiful European style garden complete with flowers, trellises of morning glories, and a now vacant chicken coop. This outdoor space houses fastidiously organized piles of materials, from wood, to useful coils of wire, tiny chairs and other props used for Cristina's performances as well as various old cars and a travel trailer which serves as the casita for her puppets. Living simply, camping and immersing herself in the culture, she lives her art. Her passions, sacrifices for and intense dedication to her art make Cristina Masoliver a truly remarkable woman.
By Lucy Perera