Connie Fernandez, Educator, Colcha Artist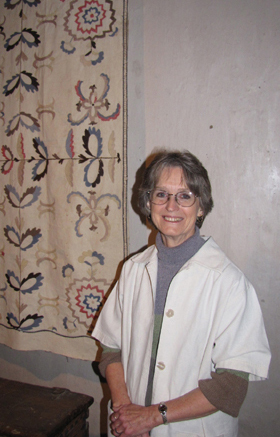 In 2013 Connie Fernandez will receive the Taos Historic Museum's Wagon Wheel for Education Award. Her teaching career spanned over 40 years, 20 of them in Taos. She has used her opportunities of working with youth and adults to help others. Connie has rejected the "cookie cutter" approach to education, meaning that all students learn in exactly the same manner, using the same approach. The rejection of a "canned" lesson plan includes both professional and personal teaching, whether in the public schools or in colcha embroidery classes. Her teaching philosophy, reflected in her work, means that she seeks to note how each individual student learns, and then she works with the youngster accordingly.
Connie's professional experience includes Marymount Loyola University's Education and Foreign Languages Department, a school from which she also earned her Master's degree. In California, she directed the Children's Foreign Language Program for student teachers at MLU in the late '60s and 70's in addition to her teaching in South Central and East Los Angeles. Connie moved to Colorado where she served as a teacher and a member of a treatment facility team at a maximum security juvenile treatment facility.
A life path brought Connie to Taos where she met David Fernandez and married him. Her husband supports her love of colcha (Spanish Colonial embroidery) and cultural traditions. Currently Connie works at Taos Middle School. Her duties include work in the Special Education/Exceptional Program for Language Arts and Phonetics Language Arts for dyslexic students. "I love it," she stated in a recent interview. She added, "I consider teaching a privilege and a responsibility. No child is the same, and keeping this in mind helps the child learn in new ways that make education exciting."
This past summer, Connie shared her passion for preserving the colcha embroidery tradition with others as a volunteer demonstrator at the Martinez Hacienda. She assisted interested persons with technique and answered their questions in the sala where the Cultural Threads—Nellie Dunton and the Colcha Revival in New Mexico exhibit is housed, thus adding a rich dimension to the colcha show.
Her exposure to needlework began early. Fernandez's grandmothers participated in various forms of needlecraft, and Connie herself learned to embroider. Sixteen years ago, she received exposure to colcheras (colcha workers) from San Luis, Colorado. A woman with confidence in Connie handed her a piece of work and said, "Here. Take this and work on it." Then, Fernandez enrolled in Monica Sosaya-Halford's colcha class at Santa Fe Community College. The course added to the store of Connie's self-taught knowledge. Along the way, Fernandez met other people who provided inspiration and encouragement, including Beatrice Maestas-Sandoval of Española's fiber art participation and Carmen Velarde of Taos. The Bond House Museum in Española featured Connie Fernandez's colcha work in a recent exhibit.
Asked what she wants to do when she stops teaching, Connie replied "When I retire in a few years, I want to teach whatever will promote culture for the overall good. No one specifically owns colcha; it's one of those arts that must be shared. I can't imagine myself retiring and not doing some form of teaching. If I teach colcha to others, I'm still doing the work I love, only in a different form."
By Kathryn Córdova
Asked about her favorite Taos places, Connie states: "Our museums, galleries showcasing creativity, fiber arts stores and Taos Adobe Quilting."