Carolyn Kalom, Live Theater Crusader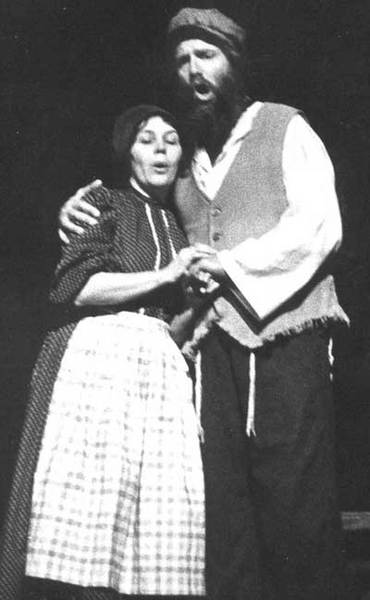 The cultural landscape of Taos is rich, to say the least with a long list of famous artists past and present, music of all types from flamenco to rock to chamber to opera, and many writers of note. Add to that the excitement of live theater and one can enjoy a variety of experiences almost beyond belief for a town the size of Taos.
It was over 40 years ago that Carol Kalom left the famous Chicago comedy theater, Second City where she had worked offstage, to come to Taos. She and her husband Ron followed the hippie movement in search of a better, simpler and less hectic life. What better place than Taos. Having to make a living, Carol and Ron opened House of Taos; serving in Carol's words "damn good pizza and a great hamburger." One wonders if running a restaurant seven days a week from 11:00 'til the wee hours for eight years was really the less hectic simpler life?
Carol's experience at the Second City severely infected her with the theater bug. It wouldn't go away. As a result she spent her spare time from the restaurant making costumes for the 100 kids playing in Oliver. This was in the early years of the live theater movement in Taos, which led to her designing and making costumes for over 30 plays, being producer of more than 14, and acting in several. Carol collaborated with many in Taos including, Bill Whaley, Michael Smith, Emily Regier, Kit Schuetze, Richard Crawley, Don Thompson, Judith Fritz, Steve Parks, Ron Usherwood and Nancy Jenkins, to name a few. Along with Carol, these men and women brought the Taos community the intimacy, excitement and magic that only live theater can provide. Carol continues to feel particular joy when she sees the smiling faces of children in the audience and the exhilaration of those on stage. She has passed that theater bug on to many budding young actors and spectators.
Live theater in Taos has experienced highs and lows--and Carol has seen it all. She remembers when the Little Theater with its open sides and dirt floor burned to the ground in 1969. She recalls the thermometer on the Plaza that measured the amount of money raised to rebuild the theater that was reborn in 1972 as the Taos Community Auditorium. There was a time when the theater struggled financially and went dark for a whole year. Carol decided she couldn't let the theater disappear so rather than sit on the sidelines she joined a group of concerned people including Bill Mingenbach and Doug Smith, among others, to raise the money to upgrade and rebuild the theater. She stepped into the breach as fundraiser, producer, costume maker and number one cheerleader. She remembers at one point organizing a rummage sale for the TCA that raised $3,000, a significant sum in those days.
Preparations for the TCA's 20th anniversary was one of the real highlights of Carol's theater days. As a tribute she produced Flashback/20 that combined excerpts from past performances including West Side Story, Man of La Mancha, Fiddler on the Roof and Godspell. Carol and her committee intended to bring back some of the productions' original cast and supplement them with new talent but Flashback/20 quickly grew into a six-week extravaganza of the performing arts including theater, dance and music. What a celebration!
In looking back at her whole experience, Carol remembers fondly the joy of collaborating with others in the theater without any expectation of other than psychic reward. Of course there were the inevitable forgotten lines, costumes gone awry, malfunctioning equipment, stage fright and a lead actor needing a stiff drink before going on stage, but in the end, working with all local talent, they were able to produce a long string of first-class performances.
As they say, what is past is past, what have you done for me lately? After designing and making costumes, producing plays, promoting theater for children and serving on various boards (including the Taos Center for the Arts), Carol continues to promote and raise funds in support of the arts in Taos. Many in town, businesses and individuals alike, are accustomed to her unabashed requests for donations. Carol's energy and devotion to the arts makes her requests difficult to refuse. She firmly believes in the importance of culture in the health of a community including its youth.
Without Carol Kalom's talent, dedication, perseverance and charm the cultural landscape of Taos would not be nearly as rich as it is today.
By Alford Johnson

Photo of Carol and Ron Kalom performing in Fiddler on the Roof at TCA in 1978