Alyce Frank, Artist
From the moment I saw it, it was me. I adored New Mexico. — Alyce Frank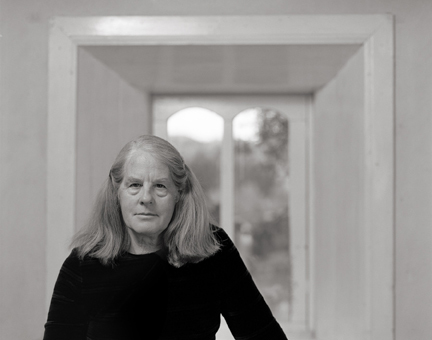 Alyce (Lycee to her friends) has a studio attached to the home she and her husband, Larry, shared at the old Penitente morada above Arroyo Hondo. She had to find a way to be "in this enormous space outside my window," she told me. "I actually started painting because of that."
In the early years, while raising children and helping with the family business—trade in New Mexico artifacts—she got her start helping with restoration of santos—wooden representations of saints.
"I liked mixing the colors," Lycee said. "I could make them match. That's when I began taking classes." It was 1973, eight years before she began exhibiting her work. "When I started, what I loved was going out painting. That was the great part of it—not the still lifes, not the studio stuff."
At various times, Lycee has referred to herself as a Taos Expressionist. Yet the clarity surrounding her process allies her more with the literary genre known as Magical Realism. The magic is extracted from the landscapes she paints via the color relationships she builds. Those relationships are a union between what she sees and what she's aiming for in the scene. "The color provides both a sense of power and pleasure, which can be translated into joy," Lycee says.
Chad Frank, Lycee's youngest son, recalls how his mom "would paint out of her station wagon and use the tailgate to sit on. She had a huge white Mercury wagon. She had a pipe welded to the bumper to put her umbrella in. She got so much paint on the car, both inside and outside, that the rest of the family joked that she might as well paint the whole car. Once when she had the car packed with paintings to go to a gallery for a show, Larry drove off in the wagon mistakenly and the paintings did not go there when they were supposed to."
Chad also mentions an adventure Lycee had with her painting partner. "Lycee and Barbara [Zaring] got rained out in Arizona and went to Los Angeles, where they painted at the beach and in the mountains and had a successful trip. She was developing her trademark style with the canvases painted red to start a landscape." Chad says his father, Larry, "supported her in taking up painting. Once she started taking trips with Barbara and was gone, Larry was not so happy."
Lycee's generosity and loyalty, even her example, inspired me. After years of raising kids and teaching school, not unlike Lycee, I wanted to do something entrepreneurial, but felt completely presumptuous in my desire to open yet another Taos gallery. My husband told me he had been chatting with Lycee. She told him she was just waiting for me to open a gallery to show her work. That was the decisive moment.
Lycee's Fauvist paintings breathe, exuding the color and vibrancy of the Northern New Mexico landscape. Plus, I could sell them. Though collected by individuals and institutions nationally, the initial stable of five contemporary artists was a difficult sell in New Mexico. She became the backbone of the Fenix Gallery.
As is well known, Lycee and Larry collected Pueblo pottery, New Mexico santos, bultos and other sacred artifacts. I neither had the education nor desire to become a part of Larry's problematical world. I was careful to keep my business with Lycee separate.
As she became more successful, confirmed by sales, solo exhibitions, and entry into museum collections, Larry's clients began to take notice. One afternoon, Lycee called, saying a collector was negotiating for some of Larry's pots and wanted a painting as part of the deal. Now Larry wants to step in, take charge, direct her career, I thought. I told her I'd call back. I then took a few deep breaths, put my trust in my heart, and phoned her back.
"You know, Lycee, I just can't get mixed up with that. If the collector wants to come into the gallery and work with me, fine. Otherwise, Larry can be your dealer."
Oh, boy, did I just lose my business? If Alyce left the Fenix, there was no Fenix, at least economically. In those early years, the sale of her paintings was steady and predictable.
"I'll call you back," she said. After a few tense minutes she called. "You're right. Larry had his chance. He could have stepped up before. There will be no pots for paintings!"
That is Lycee: clear, straightforward, no nonsense. Her paintings mirror that strength, that power.
by Judith Kendall in Taos Portraits: Photos by Paul O'Connor
Photo and essay courtesy of Paul O'Connor, ©2012
Judith Kendall's online gallery can be seen at FenixGallery.com
Scouting for painting spots brought Alyce Frank to some of her favorite places around Taos, including the rim road above Valdez, the village of Pilar, Sopyn's orchard in Rinconada and closer to home, the view out her studio in Arroyo Hondo.