Carmen Romero-Velarde, Artisan and Adobe Specialist
In the Embrace of God, by Tizia O'Connor
Used with permission of Paul O'Connor.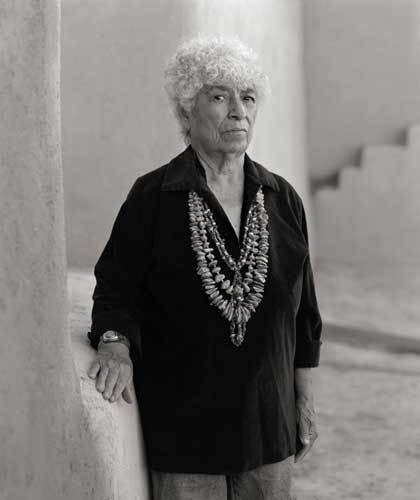 Paul invited me to join him when he delivered the portrait to Carmen. As we drove to Ranchos and entered Artistas Lane, he whispered, "Be ready to step back in time."
Outside the old adobe there are three hornos of different sizes for making bread. Inside the dining room, family photos and retablos—devotional paintings—line the shelves and watch over us. Carmen, a tiny sparrow of a woman, is so happy to see us, her eyes bright and shiny. She wears religiously charged jewelry, her speech is sharp, her stories enchanting.
She speaks of her grandfather, who was Mexican, French, and Swiss. She mentions a visit to Mexico when she was 12 and wanted to meet the Mexican side of her family. Her grandmother was Pueblo Indian and Mescalero Apache. Her grandmother and grandfather taught her how to build houses, make bread, brew, make candles, soap, weave, dye, pour mud-floors, use hornos and cook posole.
An economic recession or cuts in social security will not intimidate Carmen. She knows how to survive and, besides, God is taking care of her.
Carmen, the eldest of nine children, learned from her grandmother how to make Rio Grande serapes. In the winter they would spin and dye wool with red chili powder, weave with other families, and trade for different kinds of wool. They had no electricity until 1948. The water came from the well for drinking and the ditch for cleaning.
At age five, Carmen went to school and quickly moved up a grade. Her English was as good, if not better than the teacher's. She learned fast while working with her grandpa at the houses of the art crowd: Millicent Rogers, Mabel Dodge Luhan, Ernest Blumenschein, Victor Higgins, and others. The Anglo artists encouraged her to practice and gave her children's books in English. Carmen and Grandpa laid mud floors, added rooms, and constructed hornos. In turn, they were paid with dollar bills—instead of a cow, pig, or chicken. Trade for livestock was common among local people so work for cash created opportunities.
Carmen and her family washed and dried molasses containers to make piggy banks. When the accumulation of dollar bills left no space for more, they would go to the bank on the Plaza and trade in $1 bills for crisp new $100 bills.
She learned to paint retablos. She used chicken feathers and made paint from dried and pulverized flowers, chile powder, etc. The artists sometimes provided her with paints and brushes, encouraging her to continue the retablo tradition. She has a saint for everything. They include the Lady of Medecina, the Patron of Ecologists, St. Francis of Asis, the Lady of Travel, the Saint of Agricultura, and more. The saints listen intently to our conversation.
You can sense Carmen's Native American heritage in her dress and jewelry. Her humble demeanor contrasts with her pride as she speaks of her achievements as a builder and as a teacher of builders. She taught the men on her crew how to use power tools—and she raised her family. I hold one of her small and delicate hands in mine and admire her posture and energy.
We share many herbal medicine recipes and she shows me all the herbs she takes, like ginger and turmeric. As an Ayurvedic practitioner, I am delighted to learn about the similarities between the 5,000-year-old Ayurveda practice and the ways of Taos folk medicine.
The next day, I take Carmen a special plant. That afternoon she is quieter, softer. She shows me the rest of her house. The kitchen is lined with hand-built, rounded adobe shelves and there are kiva fireplaces in each room. Her bedroom is lined with more retablos.
Richly colored serapes and blankets cover the furniture. The last room, her closet, keeps us occupied for about 30 minutes: A pinball video machine blinks amidst piles of clothes, blankets, and art supplies. It looks like the first plug-in arcade game ever made. Carmen shows me how to play. She tells me that she keeps her mind sharp by reading the Bible and playing the arcade machine.
That evening I went home loaded with exquisite retablos.
Carmen's courage, endurance, and integrity are potent. She serves as an example to her five children, 23 grandchildren, 35 great-grandchildren, and myself.
She is brilliant; one of a kind.
by Tizia O'Connor from Taos Portraits: Photos by Paul O'Connor
Photo and essay courtesy of Paul O'Connor, ©2012
For more information on Carmen Velarde, visit http://teredovalpage.wordpress.com/tag/carmen-velarde/
Asked about her Taos favorites, Carmen listed Taos Pueblo, the Sagebrush Inn, and the famous St. Francis of Assisi church in Ranchos de Taos (where she assists with the annual remudding). Carmen proudly adds that for her craftsmanship she was invited twice to represent New Mexico by the Smithsonian Institution in Washington, D.C.