Andrea Heckman, Filmmaker, Artist, Scholar, and Business Owner
The beauty of northern New Mexico has traditionally inspired artists to create. Whether they choose fiber, wood, silver, clay, paint, film, paper, stone, or other materials, they attempt to express their spirit in relationship to the light, landscape, and stories of the place. Weaving has been a strong metaphor in my life, whether creating my own work, directing and editing films, teaching or working as a guide in the Andes. I have worked as a trekking and cultural guide for over 30 consecutive years and continue in this work.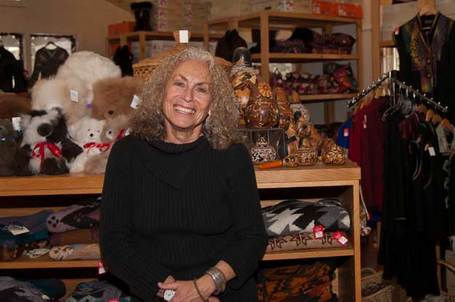 Andrea grew up in Southern California. Her grandmother taught her to sew when she was five years old thus beginning a lifelong love of textiles. As a high school senior, she was chosen to participate in the Young Careerist Program in all aspects of merchandising by Buffums Stores of Southern California. She attended the University of California, Irvine, where she majored in psychology, got a teaching certificate to work in gifted program in education, and also worked for the Walt Disney Corporation in summers. She taught elementary and junior high school gifted students for several years before taking a sabbatical to follow her passions as a fiber artist and photographer.
In 1976, when at age 29 Andrea's career as a weaver and photographer brought her to Taos, she had already exhibited her work in California at such galleries as the Ansel Adams in Yosemite and Coast Gallery in Big Sur. Her representation in New Mexico increased to include the Hills Gallery in Santa Fe, the Mariposa Gallery in Albuquerque, and Clay & Fiber in Taos as well as participating each year in the annual American Crafts Council shows in San Francisco.
Andrea's work in fiber and weaving led her to an appreciation for Pre-Columbian textiles of Peru, and by 1978 she was obsessed with the idea of visiting Peru. An avid traveler, when the experience presented itself in 1979 with only two days notice, she went to Peru hiking into the wilderness of the Vilcabamba, the last refuge of the Incas. Before leaving Peru one month later, she was determined to return to the country for the rest of her life. In 1981, she was asked by Bill Abbott, owner of Wilderness Travel to work as a guide for the budding adventure travel company. She was recently given a 30-year plaque by the company and continues to lead trekkers and cultural trips into the high Andes.
In 1980 Andrea became a graduate student at the University of New Mexico [UNM]. She earned her Masters Degree in Latin American Studies with Honors, majoring in Pre-Columbian Art History, Latin American History, and Anthropology in 1984. In support of Andrea's work in Peru, one of her primary mentors, the notable San Juan Pueblo archeologist Alfonso Ortiz, encouraged her to study ritual in learning about the context of Andean textiles and to study Quechua.
After receiving her Masters degree, Andrea attended the FLAS Summer Advanced Language course at Cornell University and became fluent in Quechua. Knowing the language was critical for her interaction with the mountain people of Peru. This helped her when she traveled to Peru, Bolivia and Ecuador to meet and buy weavings from leading textile artisans for her Andean Software business. Each year she brought back a personal collection of textiles and clothing. Soon her friends in Taos Ski Valley were asking her to purchase these beautiful items for them. Established in 1984, her shop is located in Taos Ski Valley, and began with Andrea's love as an artist of finely made weavings, soft alpaca fibers, and rich colors. This fascination and interest eventually led to chasing high quality textiles all over the world.
Questing for more knowledge, Andrea began commuting to Albuquerque in 1991 for doctoral studies at UNM. In 1996 she won a Fulbright Hayes Dissertation Grant Fellowship, which enabled her to finish her doctorate dissertation research as a resident of Cusco working in the remote Vilcanota Mountain region of southeastern Peru. A year later Andrea received her Ph.D.
Then Andrea began teaching a variety of courses at UNM in Art and Anthropology, and in the fall of 2000 she was professor of Latin American studies at Appalachian State in N.C. She teaches Anthropology of Art, Ritual and Symbolic Behavior, Cultural Study of Indigenous Video, Latin American Studies, Graduate seminars and independent studies, and will teach Latin American History in 2013. She recently stated, "I teach at UNM and UNM-Taos because I believe this is the best way to inspire our youth and help them find satisfying occupations and follow their passions."
An avid photographer, with shows at The Taos Inn and Clay & Fiber with her woven creations, she found ethnographic photography to be a valuable tool for documenting culture, arts, processes, and people's lives. She guest-curated an exhibition, "Andean Textiles and Rituals as Cultural Communication," at The Maxwell Museum of Anthropology at UNM in 2000-2001 which led to UNM Press publishing her book, Woven Stories: Andean Textiles and Rituals (2003), which won the John Collier, Jr. national book award for Excellence in Visual Anthropology in 2006. John Collier, Jr. and his family happened to make Taos their home base for many years, but he and Malcolm also wrote the important book, Visual Anthropology, which opened windows to visual representation of culture. Following publication of her book, Andrea launched a new career in documentary filmmaking. She believes strongly in the power of the visual image to communicate.
From 2003 to 2006, she and Tad Fettig of New York City and Taos Ski Valley filmed and edited her first documentary "Ausangate," set in the region of her fieldwork and book in Peru. It has shown in over 15 international film festivals and won many awards. In 2006 while serving as a Board Member of Ted Wiard's Golden Willow Retreat Center in Arroyo Hondo, she produced and directed "Crossing Bridges: Tools for Teen Caregivers." In 2009, Andrea with her artist and editor husband Ken O'Neil, and Jean Mayer created "Mountain Sanctuary," the story of the Hotel St. Bernard and its staff for its 50th Anniversary in the Taos Ski Valley. And today, even after 35 years of association with the hotel, she still enjoys its ambiance and serves drinks there three nights a week.
In 2010 Andrea won a New Mexico State New Visions contract/award from the New Mexico film office that enabled her to make a documentary film with Ken and Gak Stonn about weaving traditions of Northern New Mexico, past, present and future. The film "Woven Stories: Weaving Traditions of Northern New Mexico" joins the area's three distinct cultures together into a human tapestry with a common love of fiber and spirit of place. It documents the continuation of weaving traditions in Mora, Taos, Tierra Amarilla, El Rito, Espanola, Truchas, and Chimayo. The film premiered during the 2011 Taos Wool Festival, and has shown at the Textile Society of American meeting in Washington DC and will screen in Nov 2012 at the American Anthropology Association Video and Media Festival in San Francisco, and won an Audience Award at the Silver City Film Festival. With her background in weaving, Heckman was able to interview weavers to share their insights about weaving and life in general. As part of the award, Heckman and her team, conducted community lectures, seminars and workshops at the Harwood Museum and the UNM-Taos.
In 2011 she, Rose Gordon, Tad Fettig, Rich Allen, and Ken (now an enthusiastic film editor as well as artist) finished a four-year project called "BON: Mustang to Menri." This told the story of a Bon Tibetan Geshe, the equivalent of a PhD in monastic studies degree for monks, set in Northern India and the Mustang region of Nepal. It is now showing in film festivals and recently won the Edmund Hillary Award from the Mountain Film Awards Association and a Silver Palm Award from the Mexico City International Film Festival. It was recently screened at the Rubin Museum of Himalayan Art in New York City. Andrea now looks forward to producing more films about weaving traditions and rituals in various parts of the world.
Currently Andrea serves as a Board Member of the national organization, the Society of Visual Anthropology of the American Anthropology Association, and is the Co-Chair of the society's Visual Research Conference. This past September she co-chaired a panel on Andean Textiles at the Textile Society of America meetings in Washington D. C. and in November 2012 she will be chairing a panel on the Anthropology of Art at the American Anthropology Association meetings in San Francisco.
Not only does Andrea travel to the Peruvian Andes and Bolivia (33 consecutive trips spending two to four months there), she also has traveled the world. Now she is often joined by her husband, Ken O'Neil, a well-known fine arts painter and former engineer. They met on a trek she was guiding in Peru for Wilderness Travel, where she has been an award-winning guide for 30 years, many times on the Inca Trail to Machu Picchu and to the Lake Titicaca region of Bolivia. She and her husband unwind yearly after the ski season in Isla Mujeres in the Yucatan. They have traveled many times to Bali where they buy for Andrea's shop and immerse themselves in the Balinese temple rituals and dances. Further travels have taken them to the source of the Indus River and on to circumnavigate sacred Mt. Kailas in Nepal as well as to Turkey, Ireland, India, and Morocco where they meet with artisans and collect their textiles.
For all her travels and adventures, Andrea's love of Taos Ski Valley and Taos has kept her actively involved in the area as buyer, owner, and manager of Andean Software. As an entrepreneur/business woman and owner, she now runs two Andean Software shops, one in Taos Ski Valley (for 29 years), and one in Taos (for 5 years). She loves collecting hand-woven textiles, alpaca jackets and sweaters, as well as all-manner of indigenous art such as masks, dolls, and toys from Peru and Bolivia as well as Balinese baskets and clothing for the stores. Her shops are a visual delight; one is quickly transported to another world where native artisans give great joy not only to Andrea, but also to her customers.
Andrea Heckman: weaver, photographer, writer, student, professor, anthropologist, historian, trek leader, film producer, adventurer, and business owner. Her travels and her many interests enable her to weave her life into an eminently satisfying and amazing whole: a life that has enriched not only the lives of all of us who know her here in Taos but also the lives of her many friends around the world.
By Jean Richards
Photo ©2011 by Peter Lamont, Taos Ski Valley
For more information on Andrea Heckman, visit http://www.andeansoftware.com/