Ernestina Cordova, Businesswoman and Community Volunteer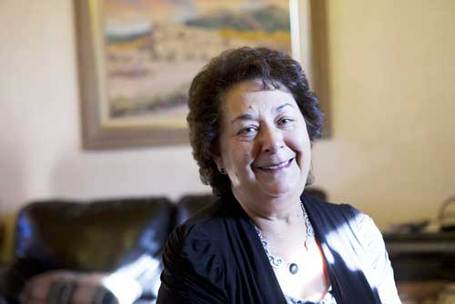 Ernestina is a native Taoseña, born in 1948 to Gabriel Abeyta and Felonis Santistevan Abeyta, inspirations through their strong faith and life of prayer. Growing up in the Depression Years, they learned to conserve. Ernestina's father, a creative man who could create beautiful things with limited materials, was a handyman who would fix whatever needed fixing. Her frugal mother would preserve fruits and jellies with little waste. She would quilt and crochet with a lot of patience.
During her early years, Ernestina attended St. Francis Catholic School and graduated from Taos High School in May 1967. After graduation she worked as an associate under Mary Lou Tarleton of the Head Start program of the Taos Municipal Schools. In 1968 Ernestina began to work at First State Bank as a teller and step by step became an officer of the bank. She was promoted to Assistant Cashier in Accounting then became the Assistant Vice President and Assistant Cashier of the Bank in charge of Finance and Operations. She attended R.O. Anderson School of Management at University New Mexico and completed a two- year course with New Mexico School of Banking. Ernestina worked in banking for 23 years. After leaving the bank, she worked three years as comptroller of a Best Western Motel in Taos (Kachina Lodge). She became an insurance agent in 1996 and started with AFBA, a military insurance plan for soldiers and families. Through her knowledge of this plan, she was able to help many families and educate them on their benefits through the years.
In the eyes of her family, her friends and her community, Ernestina has distinguished herself in countless ways making her one of the remarkable women of Taos. At Our Lady of Guadalupe Parish church, Ernestina and her husband volunteered to be Mayordomos (church stewards) three different times. She served as the children's choir director for several years and has headed several ministries at, including the environment (decorating the interior of the church), a eucharistic minister, a lector and liturgy coordinator. Ernestina also served as a member of the Pastoral Council and as such helped to organize several bazaars and other parish functions. She has been a member of both the Catholic Daughters of America and the Taos Guadalupanas, through which she participated in the annual pilgrimages to Chimayo as well as other pilgrimages. Recently, she was granted a certificate from the Northwest Deanery School of Ministry from the Archdiocese of Santa Fe.
The military has been a strong part of Ernestina's life. She has helped her husband in various military functions. She became the Family Support Coordinator for the soldier's deployment for the 1115th Transportation Unit of the National Guard here in Taos. As coordinator she helped 118 soldiers and their families. Ernestina helped raise funds for activities, such as sending monthly packages to our women and men in the service. She organized parties, picnics and different gatherings as well as prayer services for the soldiers and their families. She has helped to organize the welcoming receptions for individuals or groups returning to Taos from the battle field and also volunteers to help with the Ladies Auxiliary of the VFW Post 3259.
One of Ernestina's joys is helping with the annual food basket drive. She served as a board member of Taos Feeds Taos, a non-profit organization started in 1985 to feed the needy for Christmas. The number of families served has grown from 150 baskets the first year to 1,250 baskets distributed presently. Taos Feeds Taos services all of Taos County and continually solicits donations and raises funds to be able to do the program. Ernestina's job was to qualify basket recipients as well as help to organize and feed the volunteers on the two days of distribution. About a hundred fifty volunteers are fed on the first day of distribution. No longer on the board, she continues to volunteer with the Taos Feeds Taos organization.
Currently Ernestina serves as president of the Taos County Historical Society. She became involved helping Corina Santistevan with typing and computer work for the Taos History Book. Since Ernestina' involvement she has boosted the Society's membership and organized fund raisers such as breakfasts and raffles. She recommended community members, Tony Reyna, Valdamar DeHerrera, survivors of the Bataan Death March, Allen Vigil, a Taos musician and Jerry Padilla, historian and journalist, to be honored by the society. Ernestina applied for and was successful in attaining a grant to digitalize the Society's 164 oral history cassettes for preservation purposes.
Ernestina is married to Francis A. Cordova and has raised four children: Stephanie, Francisco, Yolanda and Consuelo. She and her husband have been honored by The Taos News as Unsung Heroes for the work they have done throughout the larger community. The Chamber of Taos has also honored them as Volunteers of the Year for the work they did with the soldier's homecoming. Ernestina's special interest in art is reflected in paintings that show how her parents inspired her. A local artist, her paintings hang at Taos Pueblo mission and other places in the county. Presently she is enrolled in an art class at the University of New Mexico-Taos.
When not traveling places like Alaska, Hawaii, Italy, Germany and Spain, Ernestina's favorite place to visit is Taos Pueblo; she loves the festivities on San Geronimo day (September 30th). The Ranchos Plaza Grill is her favorite restaurants. One of her favorite spots is the Descubrimiento, a flat area in Canon once used as a lookout site that is part of the Kit Carson National forest and oversees the whole valley of Taos. As Ernestina puts it: "From there you can see spectacular views, and breathe the clear mountain air. You can see God's divine light shining as it touches trees, grass, hills, in a morning sunrise. The silence is usually overpowering and if you sit still to watch you can witness wildlife, wild flowers that carpet the area and sight is worthy of sitting and breathing in all those wonderful smells around." Such a place seems unbelievable because it makes Ernestina feel like she is the only person in the entire world. Taos is her home and in her words "God's Country".
Nominated by Corina Santistevan
Photo, ©Kathleen Brennan, 2012