Isabel Nestora Sisneros Bringas, Mother & Colcha Artist
Mother, Clothing Designer and Seamstress, Colcha Artist
Isabel Nestora Sisneros Bringas comes from a long line of people who represented the qualities that define Taos as a special place—community, heritage, family bonds, enduring friendships, and a belief that hard work brings self respect.
Nestora was born at home, delivered by the famous Doc Martin on September 20, 1934. Her two older sisters had also been born at home with the help of midwives, but when Nestora came along, her grandmother, Nana, insisted that she be delivered by a doctor. After all, it had been fourteen years since her mother had delivered her sister Lupita. So, the birth was attended by a doctor, but Nana was not happy with Doc Martin, claiming that he sat in the living room too much of the time, thumbing through the Sears catalog instead of being in the bedroom where he might have been needed!
Nestora's father, Toby Sisneros, was a native of Taos, and after he married her mother, Ruth, the couple lived in back of the family store with Ruth's mother (Nana) and an adopted aunt, Rafelita, or Fella as the family called her. The living arrangement saved the young couple money to eventually buy land for a home, designed and built by family and friends. Together they made adobes, prepared vigas (roof beams), and raised the structure, complete with an outhouse in the back.
Nestora's father was always busy at the store, so to her it seemed that she lived in a family of women—her mother, Ruth; sisters Dolores (DoDo) and Lupita (Lou), Nana and Fella. As the youngest, she admits to being "much pampered."
Nana was strong and ruled with an iron fist. "She was no nonsense with a strong inner strength, very devoted to her religion with values and morals," Nestora remembers. Nana never had to say a word but Nestora knew when she was in trouble by Nana's expression, "her demeanor and the look."
From her early years, Nestora recalls that "Fella did most of the cooking, cleaning, and ironing, with irons heated on the wood stove." As a child, she observed that if you wanted things done right in life, it required hard work. The laundry was done outside in big wash tubs with water brought from the well and heated over an open fire. The soap was homemade. The clean, wet clothes were then passed through the ringers of an old washing machine.
Laundry was done on Mondays, ironing on Tuesdays, grocery shopping on Wednesdays, housecleaning on Thursdays, and baking on Fridays. "Fella would bake bread on Friday morning," Nestora explains, "but Nana made tortillas almost every day except when Mother would make them along with her biscochitos." Saturdays were for catch up, and on Sundays the family went to church.

Eventually, the family store closed, and Nestora's parents worked for the McCarthy family in their hardware and federated stores. When they weren't working, they loved to be with their children— on the river fishing or in the mountains camping, where they all slept on homemade mattresses stuffed with sheep's wool.
As she grew up, Nestora's sister DoDo became a seamstress and a weaver. Her other sister, Lou, did beautiful embroidery and graduated from a Denver business college before working for the U.S. Forest Service in Taos and then for the Atomic Energy Commission in Albuquerque. Nestora went to live with Lou in Albuquerque at the age of 14 where she attended St. Mary's High School. After graduating, she attended the College of Mount St. Joseph in Cincinnati, Ohio, and the University of New Mexico where she studied elementary education. Her destiny, however, was not to be an elementary school teacher but rather the mother of fifteen children. Nestora married airline pilot Tomas (Tom) Bringas, and together they accepted each child as a special and unique gift.
Tom Bringas was often flying and away, so Nestora ran the household as a tight ship, being consistent and sticking to a routine. She was always busy, and, as with her own parents, it was hard work, a constant challenge to keep up with the group while finding a way to give each child individual attention. With ingenuity—and an accummulation of free airline tickets—the Bringas family, all seventeen of them, even managed a vacation in Hawaii. They rented a camper where Nestora could cook wholesome food for her family, and the children slept outside and had a grand time on the beach and in the ocean.
One by one, as the children began to leave home, they took with them their mother's input, advice, and direction—guidance that was not always followed but at the least was always appreciated. Nestora has an inner strength that taught her children by example. She gave them determination, staying power, flexibility, a sense of humor, a work ethic, and the ability to be achieving adults.
After the last child, Lani, was born, Nestora's husband moved on, leaving her with several younger children still at home. If not for her friends and her faith, the next years would have been a daunting time, but Nestora perservered. Having altered clothes for her children for many years, Nestora found a needed income in sewing clothes for other people. Eventually, she moved back to Taos and returned to her roots and an emotional security. Back in the familiar surroundings, Nestora began to realize a desire to be creative, an expression of who she is.
Learning to prepare three meals a day for seventeen people on a tight budget might have turned a less creative person away from the kitchen, but Nestora loves to cook. In 2008, she entered her red chile in the Taos Milagro Rotary Chile Challenge and won first prize for the People's Choice Award. Afterward she discovered that in order to continue entering the event she would need to be certified. She availed herself of a course being taught by the Taos County Economic Development Corporation and received her food certification. She went on in 2011 to receive second prize for the People's Choice Award and third prize in the Judge's Award for her red chile.
Nestora has earned a reputation in Taos as being an accomplished seamstress, even though she never had any formal instruction in the art of sewing or fashion. She runs her own small business in design and alteration, and also teams with Chimayo weavers Rose and Gene Vigil of Los Vigiles Weaving Traditions and Weaving Supplies to line their woven vests.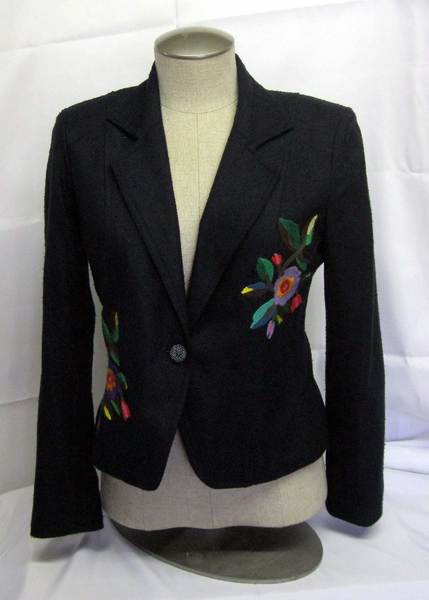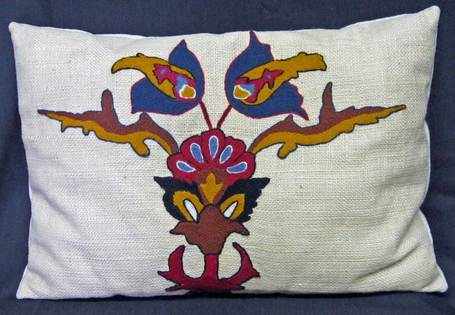 Admiring Colcha embroidery, Nestora decided to take a lesson, which led to a Colcha-adorned suit for herself and matching pillows for the oriental rug in her living room. She simply lifted the design from the rug and made covers for the pillows using the beautiful Colcha stitching. As a member of Las Taoseños, Nestora joined other women in making an altar cloth for Our Lady of Guadalupe Church from panels embroidered with the traditional Colcha stitch. She then made a matching vestment for the priest and a dress and cape for the Infant Jesus of Prague statue. Las Taoseños is the oldest women's club in Taos, formed in 1926 by eight young professional women who felt the need to organize in order to improve themselves in social and academic skills. Current members are the daughters or grand-daughters of the original members. Nestora's work was again recognized when Ernestina Cordova requested that Nestora make clothes for the ancient statues in the San Geronimo Chapel at Taos Pueblo. Most important was the Statue of the Blessed Mother, who dates back at least to the time of the Pueblo Revolt in 1680 and whose costumes cover bullet holes in the wooden figure that has survived two uprisings in the Pueblo world.
Nestora works with a variety of cloth—linen, silk, wool—and uses sabanilla or ground cloth woven from the wool of Churro sheep for her Colcha embroidery, appreciating the importance and quality in tradition.
In coming back to Taos, Nestora has reconnected with the memories and culture of her childhood. She is living in the family home and delights in hours spent working in her flower garden, an oasis in the middle of a small town that has renewed her appreciation for simplicity and its surrounding beauty.
By Joan Pond