Lorraine Concha Martinez, traditional Taos Pueblo mother, tribal member
I am proud to be an American but most of all I am proud to be a Native American living at Taos Pueblo. I am proud of my children who learned to do hard work as their ancestors did and that they live successfully in the two worlds – the Pueblo community and the outside world. Living in Taos Pueblo is highly rewarding, and challenging. I have travelled widely, but there is no other place like Taos.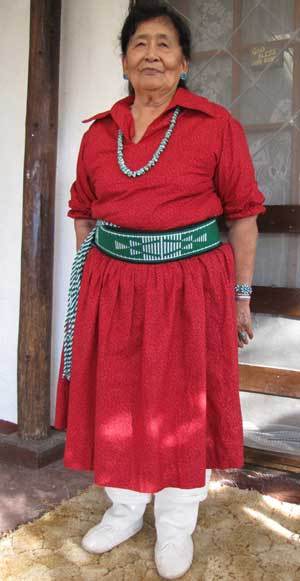 Lorraine Concha Martinez was born at the historic Pueblo of Taos in northern New Mexico. This indigenous community was established many centuries ago and is now included in the list of World Heritage sites. According to Lorraine Native American life poses many different challenges, but for a woman living at Taos Pueblo the challenges are much greater than for one living elsewhere.
Like many other women at Taos Pueblo, Lorraine works to preserve the traditions of the past, not only in celebrations but also in everyday life. As a young girl she learned about food preparation from her mother, Anna Espinosa Concha. The women gathered wild spinach, celery and onions that grew on Taos Pueblo land. In the fall they picked berries, chokecherries and wild plums, which were made into jam, and found honey in the woods. Lorraine learned to bake bread, pies and biscochitos (anise cookies) in outdoor ovens. In order to be a successful baker, she relates: "I need to build a fire in the oven just right besides using proper ingredients." She prepared fresh corn and spinach to mix with venison, and used pumpkins to make a pudding dessert. Lorraine remembers what good fun it was when family and friends gathered to do laundry. People brought their own wood to heat water for washing clothes. When the laundry was finished, they often cooked hot dogs over the fire pit.
The Concha family lived off the land and never lacked for food. Lorraine's father farmed acres of land and grew corn, peas, and wheat. A good hunter, he provided the family with deer, elk, rabbits and squirrel meat, supplemented with rainbow trout. As Lorraine relates "Our tribe owns many acres of forest land which has been rightfully returned to us by the Federal government. Therefore we depend to some degree on wild life and I am able not only to prepare the meat for a meal but also to preserve it by drying."
Lorraine received her early education at the Taos Pueblo Day School. She attended kindergarten through ninth grade; classes included English, history, math, home economics and geography. The principal John Rainer, a strict disciplinarian, taught Lorraine to follow instructions. One of his teachings—"Be proud of who you are"—helped Lorraine when she left home for to attend school at St. Catherine's in Santa Fe. During the two years she spent there, strict rules prevented her from speaking her native Tiwa language. Girls and boys were separated and not allowed to talk to each other, and if they did, punishment could result in duties like scrubbing the wood floor in the huge recreation room and applying wax melted from old candles.
At St. Catherine's, where Lorraine made her first communion at age 16, besides the standard English, math and history classes, the curriculum included home economics, church liturgy and church history. Like some Taos Pueblo people Lorraine's family are Catholic, and she made her F. Her familiarity with Catholicism led to Lorraine deep involved with teaching children. She instructed catechism at Taos Pueblo's San Geronimo church for fifteen years. Lorraine took on other church work. Although the church has four fiscales or stewards who care for the church building and services, the women are responsible for caring for the linens and attire for the santos or saints. Year after year Lorraine has worked with fellow church women who change the color of linens and the vestments for the santos to reflect the liturgical seasons. She also belongs to a church group called the Guadalupanas, an organization established to honor Our Lady of Guadalupe. Six years ago Lorraine was elected president of the women's religious group active at Taos Pueblo's San Geronimo church, a position she still holds. As a Guadalupana, Lorraine walked the hundred-mile pilgrimage to Chimayo that the church sponsors every year. Her role changed when she could no longer able to walk: "Now I host the group walking from the north at my home for the noon meal. I have to prepare for an unknown number of either men or women who are walking and their families."
While at Taos Day School Lorraine learned to sew on a treadle machine. She became so proficient that she won the school's first prize for best seamstress. Having this skill continues to help Lorraine in service to her husband Bennie Martinez and their children and to Taos Pueblo people. "Our tribe celebrates ceremonies during the year which require different types of special clothes. I cannot go out and buy what my children or others in the community need, I have to make every item needed for every celebration."
On special days celebrated with music and ceremonial dances, Lorraine prepares meals for an unknown number of guests. In her home she welcomes visitors from other tribes as well as local friends form the Taos Valley and surrounding areas. Visitors from all over the world come to Taos Pueblo and Lorraine serves as a good will ambassador: "Every day I prepare myself to represent my people in a courteous dignified way knowing that I may be speaking with presidents, kings, religious world leaders, artists and people from the film industry."
Involvement in the tribal community is a responsibility that Lorraine takes seriously. As her parents did before her, Lorraine taught her children traditional ways and food preparation. She also participates in Taos Pueblo community work like the complete annual clean up and in the tribal women's summer corn dances and in Christmas dances.
Although her tribe and her faith require much from Lorraine, she is also involved in the world outside of her community. Her fluency in Tiwa, English and Spanish served her well. As a younger woman she worked at the local Piggly Wiggly and Furrs food stores. Lorraine also worked for the Karavas and the Cecil Howells families. She worked as a front-desk receptionist for Saki Karavas, owner and operator of the La Fonda Hotel. At the Howells' dry-cleaning shop Lorraine learned to mend and make alterations as well as to clean all kinds of fabrics. For a time she and her husband Bennie ran the business for Sally Howell.
The values her father instilled in Lorraine as a child she, in turn, passed on to her children: "I had to work hard all my life as my parents did and I taught my children to not only work hard but also to help others in whatever they do."
Lorraine Martinez Concha's favorite places: Her favorite restaurant in the Town of Taos is El Taoseño. After Taos Pueblo closes to visitors for the day, quiet fills the square. Hardly anyone lives at the village any more, so one of Lorraine's greatest pleasures is to sit under a tree by the river and think. She also enjoys going up the canyon to parking areas where she and her family can picnic.
By Ernestina Cordova and Corina Santistevan