Gloria Vigil Quinto, Homemaker and Marriage Sponsor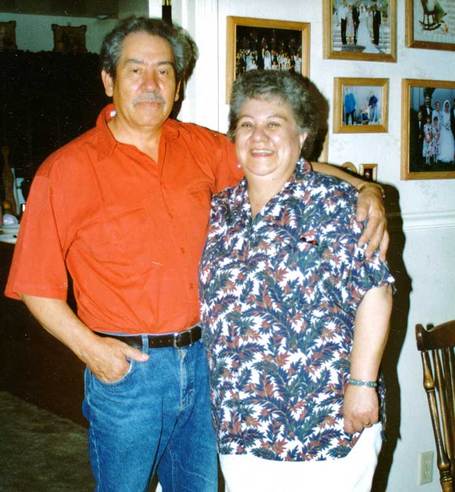 Gloria Vigil was born and raised in the small community of Pilar, New Mexico. When she was nine years old her mother, Celestina, moved the family, her Grandfather Pilar, Tia Simona (Celestina's sister) and Josephine (Gloria's sister) to Taos. The goal was for Gloria to attend school in the "big" city.
Gloria married Gilbert Quinto, her high school sweetheart, in 1959. He was drafted to serve in the U.S. Army and sent to Fort Ord, California and then to Fort Lewis, Washington. She followed him to California and Washington. They moved back to Taos in 1962.
Immediately, Gloria and Gilbert became involved in their parish, San Francisco de Asis in Ranchos de Taos. They served as Mayordomos (church stewards) of the Capilla (chapel) of San Isidro in Los Cordovas. Gloria and Gilbert have also served on the Parish Council. Gloria has volunteered as a catechist, teaching in the religious education program for eight years, and as an Extraordinary Minister of Holy Communion, ministering at Holy Cross Hospital to the sick and their families. In 2000, Gloria and Gilbert received the Archbishop's award for outstanding service in their community.
Gloria and Gilbert have been instrumental in the development and longevity of a program in their parish that prepares couples for marriage in the Catholic Church. This Marriage Sponsorship program has become a model for similar parishes throughout the diocese. In 1978, Gloria and Gilbert became a sponsor couple as part of the development of the program. This involved sharing their approach to married life, providing spiritual guidance, training other couples and assisting with preparations for the wedding ceremony. In 1980, Gloria and Gilbert took on the task of organizing and supervising the marriage program and they have served in that capacity for 32 years. Gloria has worked for the church as a bookkeeper and as a store manager, organizing and developing the Saint Francis gift shop where local artists sell their work and parishioners can find prayer supplies and gifts.
Gloria is known for her love of children. She has been adopted by many who have come to know her as a mother figure. Her home is warm and welcoming and she always has a funny story to share. Her sense of humor, warmth and wonderful cooking are nourishing to family and friends. Gloria's beans, red chile, and sopa (bread pudding) are famous. She continues to share of herself by organizing and cooking for weddings, birthdays, funerals, the annual enjarre (remudding of the adobe church), and las posadas. (reenactment of Mary and Joseph's search for shelter for the birth of Jesus).
When asked about the important things in her life she answers without hesitation, "family." She has much to say about who inspires her, "Older generations inspire me, women such as Lydia Mondragon, Loyola Gonzales, and Pita Santistevan, because they have a sense of dedication to their families. They go through so much and they have so much faith. However, my mother is my greatest inspiration. What she went through in her life, yet she had a positive attitude and dedication to us, her family, in such a loving and caring way. She did many things to support her family, working different jobs without a formal education, she was a self-taught woman"
Gloria and Gilbert have three children: Bonavita, David, and Carmela. They have two grandchildren, Manuel and Andreita.
Gloria's favorite places to visit are San Francisco de Asis Church, The Ranchos Plaza Grill and picnicking at the ice caves at the Devisadero campground.
Submitted by Gloria Quinto Vigil's children