Lucy Whyte Ferguson, Chiropractor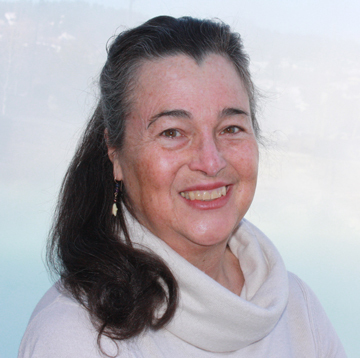 The nature-based environment of Taos, the richness of the arts, the tri-cultural community, and the warmth and kindness of Taosenos has firmly bonded me to this place. My work also sustains me. When I do my "dance" and stretch my patients' necks, backs, shoulders, hips, arms and legs, I feel that relieving constrictions and associated pain frees up life force. I am blessed to participate in this flow of energy, which feels like love, many times each day.
Early in life Lucy Whyte learned to appreciate other cultures. Her father was a well known sociologist and anthropologist who taught at Cornell University. He wrote Street Corner Society among many other books. In this academic environment, both parents expected Lucy to do well in school and demonstrated by example that people from all walks of life had the same intrinsic worth. These teachings served Lucy well during her father's sabbatical years: she spent first grade in Venezuela and eighth grade in Peru, and became fluent in Spanish. Years later, during her college years at Cornell, Lucy's exposure to other cultures and her language skills helped with a study of the social organization, working and living conditions of Spanish migrant laborers in upstate New York.
After college Lucy married her first husband. In 1970 the couple and their infant son, Jason, made an extended trip to Peru. During the trip, Lucy translated a book written by a Peruvian social scientist. She was by then already inured in social science. At a Rochester, New York, Office of Economic Opportunity (OEO) health center run under the auspices of the University of Rochester Medical School, Lucy conducted participant observation social research about how and why health care delivery teams made up of doctors and nurses and community health aides were and were not working.
Lucy's life changed in 1972. While attending a meeting of the Medical Committee for Human Rights in Berkeley, California, she met and would later marry her second husband, Allen Ferguson. Through a program at the University of California, Berkeley, he helped her get a job. Lucy assisted with OEO health centers in Chinatown, San Francisco and Phoenix. Later the two worked at Berkeley's Center for Independent Living (CIL). The CIL was a ground-breaking project that moved disabled people out of nursing home situations to live independently in their own homes throughout the community. Allen and Lucy helped them conduct research projects, as this was the first time disabled people had contracted with the US Government to evaluate programs designed to help the disabled.
In 1975 Lucy's career took another turn. At age 28 she seriously injured her back while putting their son Blake in his crib. Diagnosed with "Degenerative Disc Disease" and learning that she had no disc at the bottom of her spine, Lucy was told she would be in pain for the rest of her life. Luckily she found help from Dr. Leroy Perry, one of the first chiropractors to work with Olympic athletes. Through a combination of treatments and exercises he prescribed, Lucy regained her health. She also started on a new career path. Calling herself the Forrest Gump of chiropractic, she happened to be in the right place at the right time. She went to work for Dr. Perry and his partner, Dr. John Thie, author of Touch for Health, who adapted a system of muscle testing and acupressure that enabled lay people to help themselves and their family members. After working with these two mentors, Lucy decided to become a chiropractor. She attended the Los Angeles Source of Chiropractic (now Southern California University of Health Sciences). In 1980 in the midst of her studies, Lucy and Allen's daughter, Andrea, was born. The newborn, birthed between Lucy's 8th and 9th academic trimesters, had a heart defect. Since surgery seemed imminent, Lucy's instructors allowed her to bring Andrea to class and nurse her. Luckily, Andrea's heart healed fully within 6 weeks. In 1981, Lucy graduated Summa Cum Laude, and the family moved to Washington, D. C. Within a year after opening her own practice, Lucy was invited to a seminar presented by Janet Travell, M.D., who had been President John F. Kennedy's medical doctor and was one of the foremost world experts on muscle related pain patterns: Myofascial Pain Syndrome. From Travell's research Lucy learned about this condition, one of the most common but least understood sources of chronic pain. Lucy began applying the knowledge gleaned from these experts in her own practice.
While living in the Washington, D.C. area, Allen's son from his first marriage died in a car accident at age 17. As a result of this tragedy, the Fergusons decided to leave the pressures of urban life and find a congenial community where they could work and continue to bring up their children. Lucy and Allen loved the Rockies, so the family traveled to Colorado, Wyoming and New Mexico. On their first visit to Taos, a huge hailstorm hit. Afterwards the family witnessed a triple rainbow that doubled, then tripled in the hour before sunset. Within 48 hours, they discovered that one of the town's three chiropractors had just moved away. Allen also got a job offer. The couple found a property complete with a guest house where Lucy could set up her practice. In 1991 the Fergusons moved to Taos. Lower overhead costs enabled Lucy to spend more time with her patients—and left her time for research and writing. Her practice served as her learning laboratory. Based on her observations, Lucy created her own approaches to treating chronic pain conditions. She developed protocols for chronic hip and groin pain and for "frozen shoulder" and related shoulder problems. Her most recent research has led to an innovative treatment program for scoliosis in children and adolescents.
As Lucy's skill level grew, so did recognition of her work. In 1996, she became the first chiropractor to receive the Janet Travell, M.D. Soft Tissue Pain Management Award from the American Academy of Pain Management. Inspired by Travell and the innovative work of her mentor's students, Lucy wished to share their collective pain treatment methods with other health care practitioners. She envisioned a book. From her own work Lucy could contribute chapters on chronic hip and groin pain and shoulder problems. She contacted Robert Gerwin, a neurologist at Johns Hopkins. He agreed to co-edit the text. He would also contribute a chapter on headaches. Next she contacted other pioneering myofascial practitioners for their contributions. Once the chapters came in, disciplines ranged from chiropractic and osteopathy to medicine, physical therapy and trigger point myotherapy. With chapters in hand, the editors organized the text by common treatment problems, including headaches, whiplash, and lower back pain. Lucy realized her vision with publication of Clinical Mastery in the Treatment of Myofascial Pain (2005). The interdisciplinary book was well-received. It has since been translated into Portuguese and Russian.
Currently Lucy is completing credentials to teach at UNM's School of Medicine. As an instructor, her classes will focus on her passion: conveying diagnostic and treatment skills for working with myofascial pain. Lucy has been applying this already. For the past 2 years she has participated in the University of New Mexico School of Medicine's Project Echo. As she explains it:
Through an interactive real-time webcast pain experts —including a neurologist, internist, anesthesiologist, pharmacist, psychologist, psychiatrist, physical therapist, and myofascial experts (of which I am one)—offer feedback and advice to local doctors and other health care providers in outlying areas of New Mexico and in clinics and offices in other states. This program is serving as a model for the efforts of the Veterans' Administration and the Defense Department. Both agencies recognize that pain care for injured servicemen and women and veterans has been woefully inadequate.
In December Lucy will teach a Continuing Medical Education course with Ben Daitz, M.D. This class allows attendees from all over the country to receive hands-on coaching to learn the skills for the diagnosis and treatment of myofascial pain. Lucy will continue to live and work in Taos, but she's looking at the bigger picture. As she points out, "In Taos I can help a limited number of individuals who are in pain, using my own hands. When I teach others, the potential to relieve suffering grows exponentially."
By Elizabeth Cunningham
Asked about her favorite Taos places and activities, Lucy listed mountain hikes, particularly to Williams Lake; summertime swimming in the outside salt water pool at Northside Health and Fitness and Saturday mornings at the local Farmer's Market; local theater productions; Taos Community Auditorium's simulcast opera performances from the Met; the San Geronimo celebration at Taos Pueblo. She adds: "I love eating breakfast or supper on the patio in my back yard with my husband, while watching the cloudscapes glide across the mountains. When sunset comes, we get up and run around the house to see it from every angle."